From acceptance to graduation to the launch of one's career in music, students have many needs and questions along the way. Berklee College of Music meets those needs and answers those questions with a system of student services that simultaneously empowers students to take responsibility for their own education while also providing a level of support that helps to ensure that students' experience at the world's leading college for contemporary music is of the highest quality.
The Student Affairs team in Valencia seeks to provide students with the services and support systems needed to ensure their well-being and ultimately their success. Furthermore, we seek to enrich the student experience by cultivating active leaders, community builders and global citizens through a wealth of extracurricular opportunities for growth and development.
In this section you will find all relevant information regarding Student Services and Policies applicable to all Berklee students, as well as more specific and relevant information for students on the Valencia campus, regardless of whether you are enrolled for two weeks, a semester, a year or even longer.
Housing
Undergraduate students
Undergraduate students are required to stay in housing arranged by Berklee. Visit the links below for more information on housing for the two specific undergraduate programs.
*Please note that in addition to housing Berklee's undergraduate students, Livensa Living Valencia Marina Real lodges students from Berklee's non-residential programs as well as students from other academic institutions. Therefore, room availability is limited. Housing at Livensa will be assigned on a first-come, first-served basis upon receipt of the program deposit.
Berklee will provide students with alternative accommodation if the appropriate lodging for Berklee undergraduate students is no longer available at Livensa. Should you be provided with alternative housing, please keep in mind that the amenities and location may vary. More information will become available to you as soon as possible once the need for alternative housing is confirmed.
Graduate and Summer students
Students in Graduate Programs and our Summer Performance Program must arrange their own housing, with options ranging from finding an apartment to staying at a nearby private student residence hall.
The Valencia campus does not offer student housing directly, but there are many options available for students to choose from. Students can rent a room in a private apartment or rent an entire apartment and arrange to share with classmates. There are also several student residences near campus where students can stay in individual or double rooms, with or without meal plans.
Berklee does not provide any professional legal and/or real estate advice and is therefore not liable for the services carried out by any of these external agencies.
Living in Valencia
Valencia is a large city, and you can choose to live near the beach, near campus, in the center, or in one of several up-and-coming neighborhoods. You should consider how far you want to live from campus, and also if you want to walk, ride a bike or take public transportation. The public transportation system in Valencia is well developed, with various subway lines and an extensive bus system.
Neighborhoods near campus
While basically anywhere in Valencia can be a good choice to live, living somewhere inside the red arrow (see image below) is near campus and relatively easy to reach by bus, bike or foot. Some websites allow you to search for apartments by district. The two sub-districts closest to campus are:
District Quatre Carreres, sub-district Ciutat de les Arts i de les Ciencies
District Camins al Grau, sub-district Penya-Roja
Note that these two districts have higher than average rent compared to other areas of Valencia, due to their prime location.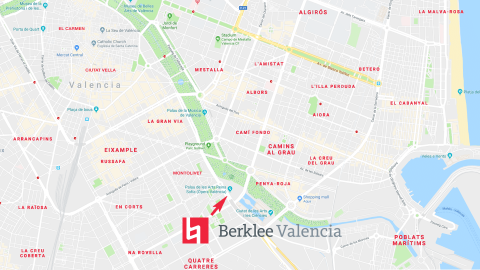 Housing Options
Student residence halls
Valencia is home to several universities, with a selection of privately run student residences (dorms) rising to suit student needs. Students can choose to stay in a single or double room, with a wide range of amenities to choose from, including several meal plan options. The following student residences are all located about the same distance from the Berklee in Valencia campus:
Apartments in Valencia
Apartments in Valencia can be rented furnished or unfurnished, and range in price and quality from run-down to luxurious. Many rooms and apartments are available on the market, and students should exercise prudence when renting private rooms or apartments, especially when it comes to wire transfers of money. Keep in mind that most apartment owners and agencies speak Spanish, with limited English. Once you find a room or apartment that you like, you should ask if there is a rental contract you can see. You should ask what the terms and conditions are for deposits, length of stay, and other terms. A good question to ask is whether the "gastos de comunidad" (building maintenance fee) is included in the cost of rent, or if electricity and water are included (usually, they are not).
We also offer our incoming students a housing database of landlords that have collaborated with previous Berklee Valencia students
. If you wish to have access to this database please email us at
studentaffairsvalencia@berklee.edu
There are multiple websites and agencies that can help with your apartment or room search, including the following sites
Student orientated real estate portals - flats for rent:
General real estate portals:
Hotels
A hotel may be a desirable option for a quick visit. Here are a few hotels in the center of Valencia or near campus. For short stays, you can also check some of the short-stay apartment options in the links found under "Short to Medium-Term Apartments."
Relocation services
Relocation services are available to students wishing to receive extra assistance during their move to Valencia. CSS consulting can help students with searching for accommodation, reviewing rental agreements, city tours, airport pick ups, and more.
Additional recommendations
The following links might provide additional recommendations to help in the accommodation search:
The information here provided is simply for the purposes of giving students an option, but neither Berklee nor its staff will be able to intercede in the interactions the student holds with law firm representatives on behalf of the student or the law firm.
Short term housing for summer students
Student residence halls
There are privately run student residences which offer temporary housing at very affordable rates to both Berklee summer course students and graduate students arriving in the week/s before orientation to find an apartment and get settled in before classes begin. This is a good option for students who want a place to stay for a short period of time while they look for a long-term housing solution or during summer courses. Contact directly the residence hall you are interested in for more information.
Frequently Asked Questions
Which neighborhood should I live in?
There are many beautiful neighborhoods in Valencia in which to live. However, as a Berklee student, it is very likely you'll want to live as close to the campus as possible so you can maximize the campus facilities and resources. These are the nearby recommended areas that we encourage you to explore in your search for accommodations:
Ruzafa, 23 minutes walking / 10 minutes biking
L'Example, 15 minutes walking / 7 minutes biking
Cuatre Carreres, 12 minutes walking / 6 minutes biking
Penya Roja, 11 minutes walking / 5 minutes biking
La Alameda-Avenida de Francia, 15 minutes walking / 6 minutes biking
El Carmen, 50 minutes walking / 15 minutes biking (old town district)
How should I go about finding an apartment?
To find an apartment you can contact one of the recommended websites or agents in the above section "Rent an apartment (long-term)", or you can get in touch with our former students who are renting directly from private owners. Berklee does not endorse any of these alternatives, but we can help you connect with former students to get the contact information of apartment owners. Contact
studentaffairsvalencia@berklee.edu
to get in touch with former students.
How early should I plan to start looking for an apartment? How soon should I arrive in Valencia before the start of my program?
We recommend you arrive in Valencia at least two weeks before orientation so you can get familiar with the neighborhoods and make informed decisions about where to live. We encourage students to stay at a short-term accommodation on arrival while they search for long-term alternatives, and highly recommend all students to see the place before signing a rental agreement.
What should I take into consideration when signing a lease with a landlord/ agent?
Make sure that your rental agreement is translated into English before signing and committing to it.
Consider the breaking clauses before committing to a year-long contract. Sometimes, students change their mind halfway through the year about where to live and with whom. Make sure you understand the repercussions of breaking a contract before it ends, prior to committing to it. Furthermore, ask your landlord/agent what would happen if one of the tenants wants to move out and the others want to stay: what would be the consequences? Make sure that all tenants understand this before you sign an agreement together.
Communicate well with your future flatmates. Make sure you know the person/s you will share your apartment with for the whole year before committing to an agreement with them.
Deposits: Real estate agents and websites usually ask for one month's rent and one month's deposit in order to secure your apartment. This is a normal procedure. The month's rent works as a commission (and is non-refundable) and the deposit will only be refundable in its entirety once you return your keys and the landlord/agent checks that the apartment is in the same condition as when you entered. Do not agree to pay any more than two months' rent to secure an apartment.
How much should I expect to pay for utilities? Are they usually included in the rent?
Depending on the agreement you sign with the landlord/agent, utility bills (electricity, water, gas) may or may not be included in your rent. Make sure you understand the terms and conditions of your rental agreement before signing, and note that bills might be up to 70–90 euros per person per month (the total cost might also be subject to the number of people living in the apartment). Also, note that heating/air-conditioning is expensive. Do make sure you switch off your devices when leaving the apartment or your bills might shoot up! WiFi connectivity might be charged separately from utility bills, and should cost you around 50€ per month. There are many internet providers you can try: Movistar, Ono and Orange are some of the ones recommended by Berklee students. We highly encourage you to visit the
Phone House
at either El Saler or Aqua mall (both within a 10-minute walk from the campus), as they will be able to recommend the best provider for you depending on your needs.
What is the average rent I should expect to pay?
Renting a two- or three-bedroom apartment nearby campus or in one of the areas recommended averages 400€ to 1,200€ per month (approximately, not including utilities). Usually, students prefer to share an apartment with other Berklee students rather than renting a room with non-Berklee people, but there are a number of agents offering either option. Renting as a group (two or three people) is normally cheaper than one-bedroom apartments.
What is the public transportation system like in Valencia?
The
EMT service
is the public bus system in Valencia. Night buses do not run as regularly as day buses do and not all routes are offered during night shifts, so to get around the city by night we recommend our students do so by either taxis (6€ minimum evening fare) or using
Valenbisi
, the public bike system which you will have access to for less than 30€ a year. The tram and metro services are provided by
Metrovalencia
, but they do not run in the evenings.
Need housing help?
If you need any advice on housing, write us an email at studentaffairsvalencia@berklee.edu.
Berklee does not provide any professional legal and/or real estate advice and is therefore not liable for the services carried out by any of these external agencies.