Virtual Campus Tour
Google Street View Tour
To navigate the campus:
Click the button in the upper right-hand corner to use full screen mode.
Then use the arrows on your keyboard to "walk" and click your mouse to "look" around the rooms.
There are two floors, click on the numbers 1 and 2 in the upper left-hand corner to go up or down the floors.
Left of Main Entrance, Floor 1
Right of Main Entrance, Floors 1 and 2

In this area of the campus, you will find:

large technology lab
scoring stage
studios
library

In this area of the campus, you will find:

classrooms
teaching studios
individual practice rooms
small technology lab
Academic Area
Acoustic Design by ARQUISON
First opened in January 2012, the academic area includes ensemble rooms, classrooms, teaching studios, and practice rooms. All rooms have been specifically built to the highest standards of acoustics, through the use of soundproofing as well as absorption and diffusion materials on room surfaces in order to provide rooms with sonic isolation.
As a student at Berklee in Valencia, you will enjoy performance spaces that emulate the conditions found in professional environments with state-of-the-art equipment and a wide variety of musical instruments.
Ensemble Rooms
A mix between classroom and teaching studio, the ensemble rooms are designed to encourage collaboration. Each of the two ensemble rooms features a projector, staved whiteboard, Yamaha C2 acoustic piano, drum set, amplifiers, and various percussion instruments. The ensemble rooms are fully wired with stereo sound PA systems connected to the campus network. As with all music rooms on campus, the ensemble rooms are fully soundproofed and isolated so that nothing comes between you and your music.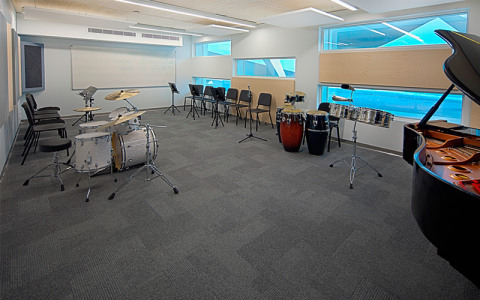 Classrooms
Classrooms seat up to 20 or 36 students, depending on the room. With audio and video music presentations in mind, classrooms are designed with an overhead projector, stereo audio and video, a piano, and staved whiteboards. Classrooms are networked and fully connected with the rest of campus for access to Berklee's digital media library and the internet.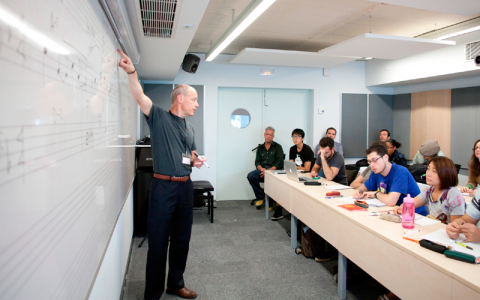 Teaching Studios
Teaching studios contain similar features to those found in ensemble rooms, but in a more intimate setting for you to collaborate with peers and faculty. Studios contain pianos, various percussion instruments, amplifiers, and audio and video connections for a full musical experience. As with most rooms on the Valencia campus, you and your teachers can reserve teaching studios through an online booking system.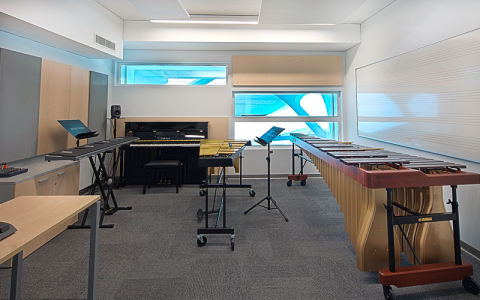 Practice Rooms
Soundproofed practice rooms ensure that you will have ample opportunity to perfect your craft. Rooms are large enough to accommodate small ensembles and can be reserved twice a day for up to two hours at a time. Acoustic pianos are available in six rooms and drums are on hand in three rooms. A guitar practice room features a Fender Hot Rod Deluxe III amplifier.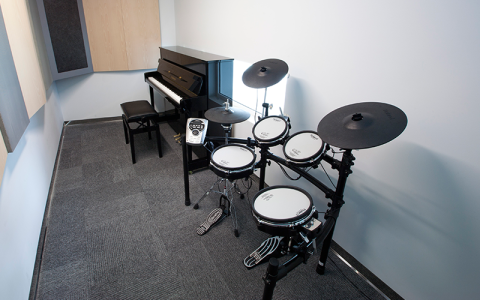 Instrument Storage and Lockers
All students are provided with a standard locker. Priority for larger instrument lockers is given to contemporary performance students.

Facility Reservations
Virtually each room on campus can be reserved, depending on availability. As a student on Berklee's Valencia campus, you can reserve practice rooms, the scoring studio, recording rooms, ensemble rooms and classrooms with your account on the Valencia campus intranet system. Each room has specific guidelines and reservation policies regarding usage, time limits, and access privileges.

Music Technology Complex
Acoustic Design by Walters-Storyk Design Group
The state-of-the-art music technology complex houses two technology labs and five recording studios, including a world-class scoring stage. The scoring stage and recording studios A, B, C, and D were designed by the renowned acoustic design consultants at Walters-Storyk Design Group in collaboration with chairs, deans, and technology lab staff from Berklee.
Walters-Storyk Design Group has designed studios for artists and organizations such as: Alicia Keys, Bob Marley, Bruce Springsteen, Celine Dion, Jay-Z, and Jazz at Lincoln Center.
Every aspect of the technology complex is geared toward preparing you to meet the challenges of the evolving music industry environment.
Scoring Stage
The scoring stage is a 126 square meter facility (1,360 sq. ft.) that includes a live room, a 46 square meter control room (500 sq. ft.), and an isolated machine room. The live room is an 80 square meter area (860 sq. ft.) with high ceilings, variable floor and wall surfaces for diverse acoustic configurations, and two iso-overdub booths. The control room is configured to accommodate learning.

Recording Studios A, B, C, and D
Four recording studios enable you to develop, produce, design, and complete projects in advanced professional production facilities equipped with the latest hardware and software.
Featuring excellent acoustics and sound isolation, the recording studios range in size from 12.5 square meters (135 sq. ft.) to 18.5 square meters (200 sq. ft.). Each of the recording studios is linked to an iso-overdub space that expands the working area and supports supplemental recording with microphones.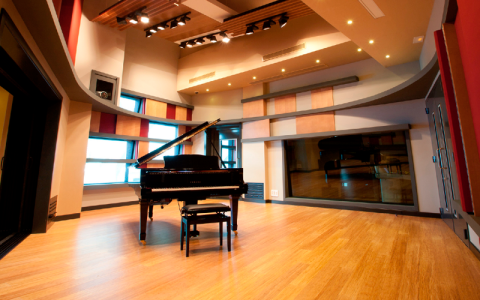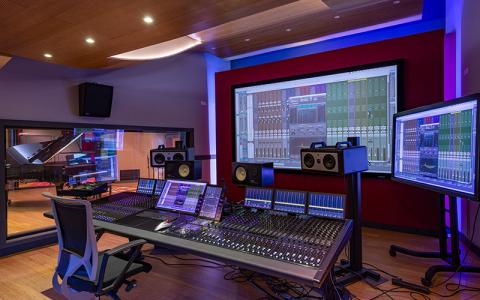 Technology Labs
Two technology labs serve as classrooms for technology-based music and global entertainment/music business courses. These laboratory spaces provide you with hands-on access to professional music technology and music business equipment and software. These tools and resources, in conjunction with your own required Berklee laptop computer package, allow you to advance your skills and complete your most demanding course work. The labs feature:
professional DAWs that mirror real-world, computer-based MIDI studios of writers and producers, designed to help you meet the challenges of professional music industry work;
the latest tools for music business professionals to develop their skills, from statistical analysis and web design to multimedia editing and graphic design;
a soundproofed recording booth that you can reserve, connected to a dedicated workstation;
audio, video, and network connections to a teaching station providing connections for a laptop and patching capability; and
multi-channel sound capability and multiple projection options.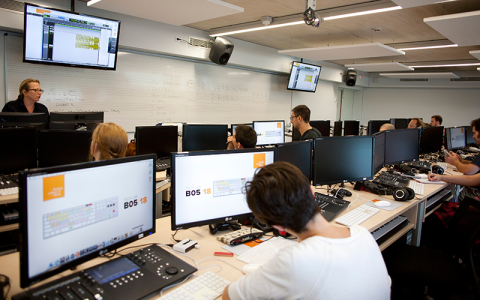 Library
Our library features a beautiful, light-filled atmosphere and offers a breathtaking view of the City of Arts and Sciences. The library is a place of constant evolution to satisfy the Berklee community's developing needs.
The library continues to build its collection of print, multimedia, and electronic materials, which can all be searched through the online catalog of Berklee's Stan Getz Library in Boston at catalog.berklee.edu. The Library also contributes to the promotion of artistic research with the Berklee Valencia Library Research Support Group to help our students with their thesis projects and to support music-based research.
For any inquiries, please contact Tsun-Ju Lin at libraryvalencia@berklee.edu.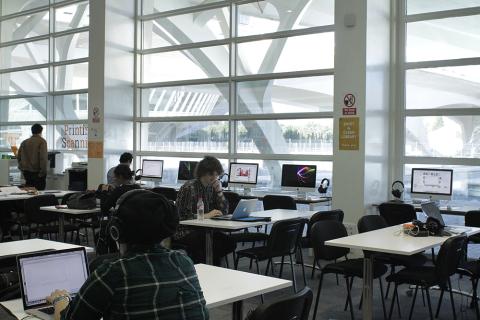 Palau de les Arts
Since opening in 2005, the Palau de les Arts opera house has quickly become one of the most visited attractions in Valencia, and is on its way to being recognized as one of the top opera houses in the world. Through a special agreement between the Palau de les Arts and Berklee College of Music, students at the Valencia campus can partake in performances and concerts at this world-class live music venue.
Teatre Martín i Soler
Named after Valencia's famed 18th century composer, Vicent Martín i Soler, this 400-seat theater is located underground inside the Palau de les Arts Reina Sofia. The theater features an opera pit and is fully equipped with the latest stage technology equipment.

The Auditori
The Auditori seats 1,490 spectators, all with unobstructed visibility. Designed with acoustic excellence in mind, the Auditori is well suited for symphonic concerts, film premieres, large conferences, and other special events.