Berklee College of Music 
Valencia Campus

Palau de les Arts Reina Sofía – Anexo Sur 
Avenida Profesor Lopez Piñero, 1 
46013 Valencia (Spain)

Phone: +34 963 332 802

Administrative Office Hours: 
10AM to 5PM, Monday to Friday
If you are interested in applying for a job, please visit the jobs section of our website for further information.
Alumni Access to Campus
Please be aware that Alumni can only access campus when invited by a current Berklee student -upon approval by Berklee officials- or by a Berklee Staff or Faculty member.
Compliments, Suggestions, and Concerns
As a user, you can send us compliments, suggestions, or concerns about the services Berklee Valencia provides. 
We thank you for your collaboration and for helping us improve.
Send Compliments, Suggestions, and Concerns
Getting Here
Campus Access
The campus entrance is located on the same level as the City of Arts and Sciences reflecting pools, one level lower from the street. To access campus, you can go down a ramp, stairs, or use an elevator. The main door is located by the final "e" in the big orange "Berklee" letters.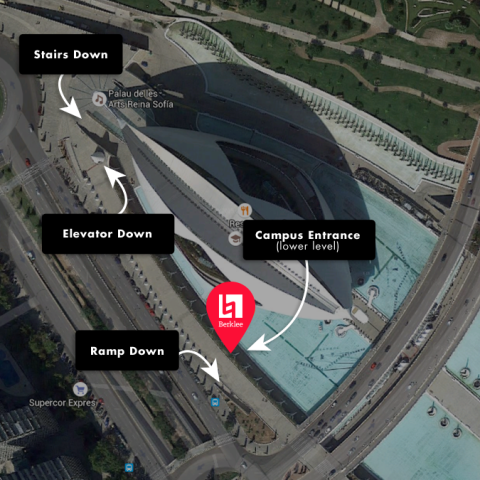 Campus Access via Ramp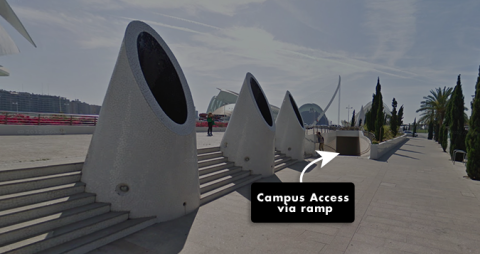 Campus Access via Stairs or Elevator