The music industry is changing faster than ever—and expanding worldwide. In this master's degree, you'll learn to meet the artistic management and entrepreneurial challenges of the global entertainment industry.
From crowdsourcing to music streaming, the way of doing business in the music industry is being revolutionized. Berklee's master in global entertainment and music business is part of that revolution. This one-year program is ideal if you have a vested interest in both music and business, and want to gain a competitive edge in the industry.
Experiential

50+ networking opportunities

40+ guest speakers

Global perspective

As a global entertainment and music business student, you will focus on the skills, concepts, and methodologies central to global business models and apply these models to the artistic management and entrepreneurial challenges of music and digital media in the contemporary international entertainment industry. You will strengthen your analytical and leadership skills as well as your written, oral, and musical communication skills. As you advance your professional skills and knowledge, you will grow and excel as leaders of the global music industry.
Program Highlights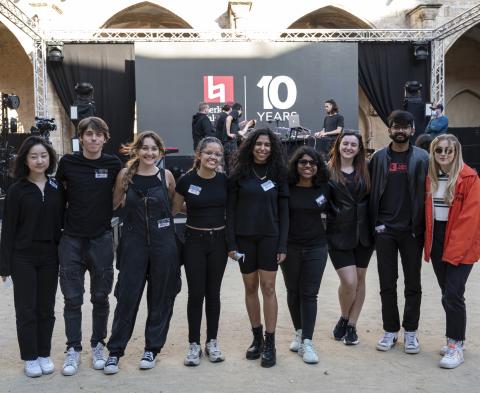 Global Perspective
Students from over 30 countries come to develop a global vision of the music industry and understand the tendencies in leading and emerging markets. Our multicultural faculty have experience across the globe, and we bring in industry experts to give in-depth thematic workshops on the nuances of markets such as the US, Japan, Sweden, Brazil, China, and France.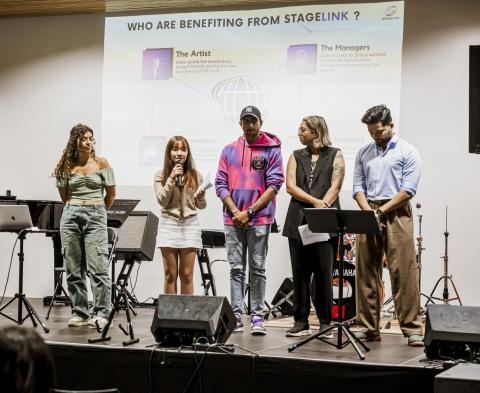 Tailored Curriculum
The program offers concentrations in three areas of the music industry: Live Entertainment, Entrepreneurship, and Record Industry. Students choose the concentration and focus on this area for the practicum course and the culminating experience project. In addition to choosing a concentration, students have the flexibility to choose several electives based on their interests and career goals.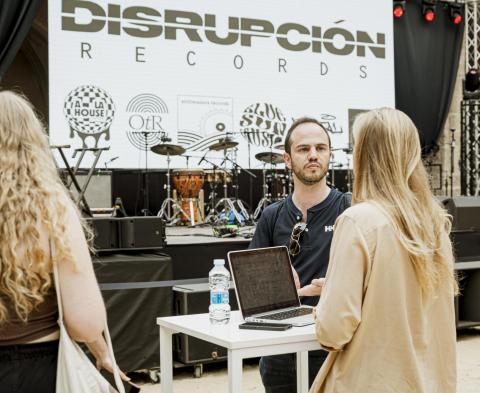 Practical Experience
Getting hands-on, practical experience is vital to success after graduation. Students have the chance to work on real-life projects such as the on-campus record label Disrupción Records. Students also get to work on consulting projects to develop creative solutions for real companies and start-ups, such as Sony Music Germany, Kobalt Music Group, FUGA, Chartmetric, Soundcharts, and Next Big Sound.
Who We Are Looking For
We seek focused, motivated, creative candidates with excellent academic and professional backgrounds who can contribute skills that will benefit the program.
Ideal candidates want to:
Explore advanced concepts and models in the global music industry;
Apply managerial and/or entrepreneurial skills to existing entertainment and music business environments;
Lead and influence the direction of the profession as visionaries, executives, and entrepreneurs; and
Gain a thorough understanding of the elements of a successful enterprise.
Ideal candidates should demonstrate:
Professional goals of working at an executive/managerial level in a company or creating a business/organization;
Prior academic success;
Prior knowledge in business;
Good understanding of the current situation of the entertainment industry and technology; and
Leadership in professional and/or academic environments.
What Will I Learn?
When you complete the Master of Arts in Global Entertainment and Music Business, you will have the ability to:
synthesize the language of the global music and entertainment industries;
evaluate and apply leadership models as tools for ethical decision-making;
apply effective promotion and marketing strategies;
synthesize research techniques applicable to the global music and entertainment industries;
synthesize intellectual property laws, with particular attention to rights licensing;
assess markets for emerging business models;
assess financial considerations in the commerce of music and entertainment in a global economy; and
forecast trends and gain expertise in the technology applications appearing in business environments.
Culminating Experience
The culminating experience is your final project and is related to your concentration. Through the culminating experience, you will make a creative contribution to—and/or define and solve a problem that exists in—the profession. This experience may take the form of a creative, practical, or research project. You will work in consultation with your faculty advisor and/or the program director to develop your unique project. The goal is to complete original work at a professional level. A faculty committee comprising your advisor and two other faculty members will serve as the examining committee to evaluate your final project.