Visual media is everywhere, from full-length feature films and television to web series and immersive video games. Whether you see it on an IMAX screen or a smartphone and whether you hear it in 7.1 surround sound or on a pair of earbuds, the experience is enhanced by the accompanying music. The craft of creating this music has become one of the world's most desirable careers.
This one-year intensive master of music degree focuses on the art and craft of composing, orchestrating, editing, and producing music for the screen using the latest technology. Students lead recording sessions with professional session musicians and receive in-depth instruction in narrative analysis, orchestration, and the use of dramatic effects to support the story.
Creation of your own sound libraries

Live recording sessions with professional musicians

Live remote recording sessions with the Budapest Art Orchestra

Live recording of your final project in London with a full orchestra
Program Highlights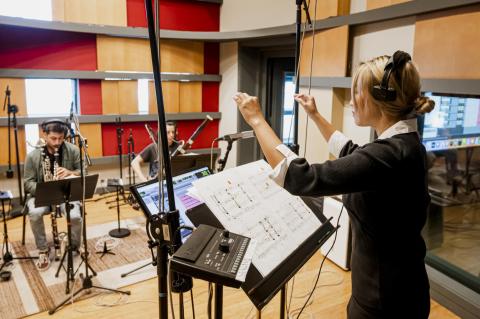 Direct and Remote Recording Sessions
Several times throughout the year, students record their compositions on our scoring stage with professional session musicians from the main orchestras in Valencia. Students also participate in remote recording sessions with orchestras such as the Budapest Art orchestra, connecting with the studio team and the orchestra online, which is an increasingly popular way to record music in the digital age. The final project of the year includes a recording session at a major studio. In the past, students have recorded at Air Studios and Abbey Road Studios in London.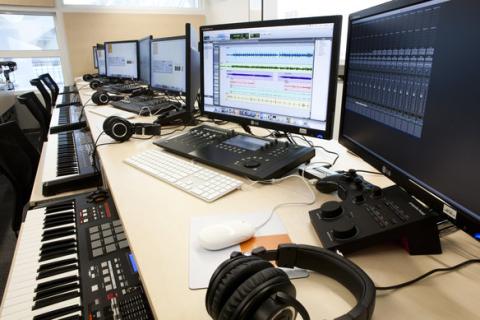 The Latest Technology
In today's fast-paced industry, advanced technical skills are just as significant as musical and creative abilities. Students become proficient users of the latest hardware and software in our tech labs and studios, where each station contains an Apple Desktop Computer, DAW Controller, Midi Keyboard, Sound Card, and Video Monitor(s). Up-to-date software is installed at each station, including Pro Tools, Digital Performer, Logic, Cubase, Vienna Ensemble Pro, Dorico, Finale, and Sibelius (with Note Performer), each with a wide range of sample libraries and plugins available.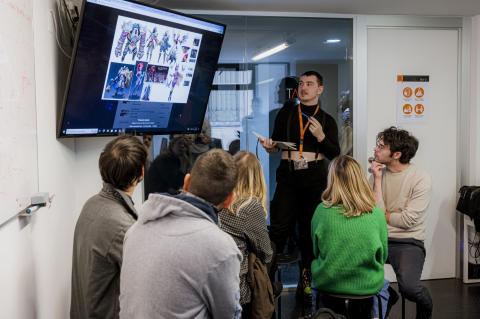 A Real-World Working Environment
Students leave the program with excellent working knowledge of industry workflows and processes. Projects are assigned in the same way that composers are hired in any real-world situation – including quick turnarounds, demanding producers, and the necessity to compose in a wide range of styles and genres to meet meticulous requirements. The recording sessions, both direct and remote, provide students ample experience in writing for different sized orchestras, including a full 50-piece orchestra.
Who We Are Looking For
We seek focused, motivated, innovative, and, above all, passionately creative candidates with excellent academic and/or professional backgrounds. Additional study and/or work experience in the following areas will be helpful but is not required: interactive scoring techniques, conducting to picture, basic music editing skills, and project collaboration. Prospective students do not need to have extensive direct experience working with live orchestras.
Ideal candidates will:
Demonstrate a strong compositional foundation from their studies and/or professional experience;
Possess the ability to notate one's ideas competently, follow an orchestral score, and conceive material in an orchestral context; and
Exhibit passion for musical storytelling and a demonstrated aptitude for visual music.
What Will I Learn?
Upon completion of the program you will be able to:
synthesize the language of visual media;
evaluate and apply leadership models as tools for ethical and culturally influenced decision-making;
interpret and apply musically artistic aesthetics to visual media projects in different styles;
analyze and research techniques of leading masters of music composition, orchestration, and arranging;
synthesize intellectual property laws, with particular attention to artistic contracts;
design project management plans for emerging new media scoring models;
assess financial considerations in the commerce of music within the entertainment economy; and
exhibit expertise in the technology applications appearing in media scoring and sound environments.
Culminating Experience
Scoring for film, television, and video games students are required to complete a culminating experience that serves as both a practicum and a bridge to the professional world. The tangible end product of this experience will take the form of an original score, scholarly paper and/or research project, or other enterprise that offers an original solution to the challenge of marrying music to visual media, specifically, film, television, and video games. You will work in consultation with your faculty advisor and/or the program director to develop your project, the goal of which is a professional outcome. A culminating experience committee evaluates the final project that results from the culminating experience.