In order to give students a broader understanding of the music industry, we host industry-leading artists and faculty from Boston on campus to give lectures and workshops related to specific challenges and opportunities in the industry. Faculty visiting from the Boston campus frequently come to Valencia for special workshops and presentations. In many cases, students from all master's programs are welcome to attend all visiting artist and faculty sessions, regardless of program.
Visiting artists and visiting faculty change each year. Here are some of the visiting professionals who have visited campus in the past on behalf of contemporary performance (production concentration):
Becca Stevens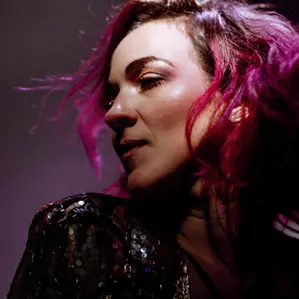 Becca Stevens has tested the limits of musical identity, mining everything from jazz to Irish folk to indie rock while striving for complete and authentic expression. In her latest musical endeavor, WONDERBLOOM, the North Carolina–bred, Brooklyn-based artist defies all expectation, dreaming up a groove-heavy, dance-ready sound infused with elements of pop, funk, and R&B.
Patrice Rushen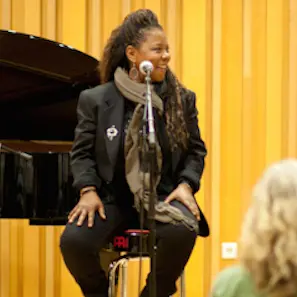 Well known for her Grammy-nominated single 'Forget Me Nots,' American composer, record producer, multi-instrumentalist, songwriter, music director and vocalist Patrice Rushen visited our campus to speak about her experience in the music industry, and to coach students musically. She ended her week long visit with a performance that featured our students.
Michael League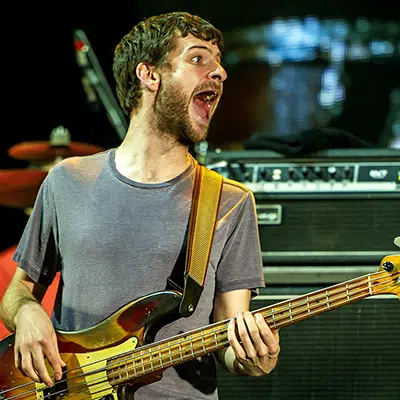 Michael League is a Grammy Award–winning bassist, composer. and producer who is involved in a number of projects, most notably Snarky Puppy. League visited campus with New York City–based band "FORQ," featuring members Henry Hey and Adam Rogers. The group gave a masterclass and performed for students. View video
Silvana Estrada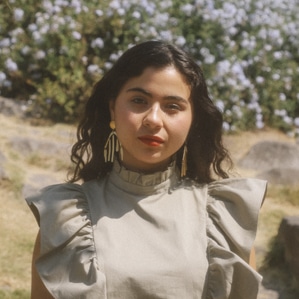 Silvana Estrada is a Mexican singer and composer with influences from Latin American folk, indie music, and jazz. Despite her young age, she has created a clear identity with a nostalgic and timeless air. She has shared the stage with artists such as Charlie Hunter, Antonio Sánchez, and Michael League.
Victor Wooten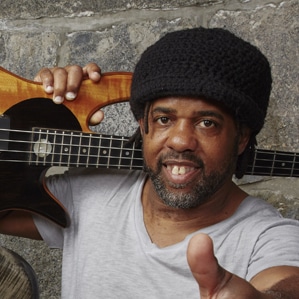 Berklee Performance Scholar-in-Residence Victor Wooten is a multiple Grammy Award–winner and a founding member of Béla Fleck and the Flecktones. He has been called the most influential bassist of the last two decades. His recent release, Trypnotyx, features Bob Franceschini and Dennis Chambers in a trio format.
Jamey Haddad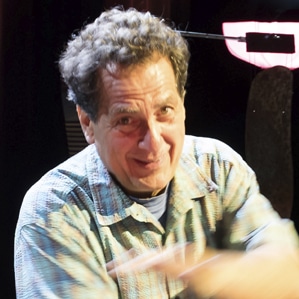 From Cleveland, Ohio, percussionist and drummer Jamey Haddad holds a unique position in the world of jazz and contemporary music. He's an associate professor at Boston's Berklee College of Music, New England Conservatory, Oberlin Conservatory, and the Cleveland Institute of Music. He was voted one of the top four world percussionists in the world by the most largely read percussion periodical, Modern Drummer, in July 2007.
Fabrice Dupont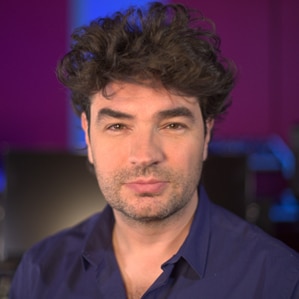 "Fabulous" Fabrice Dupont is a mixing engineer, record producer, and teacher. He has created records for artists such as Shakira, Jennifer Lopez, Bebel Gilberto, and Freshlyground, and received three Grammy nominations for his work with Toots and the Maytals, and Kirk Whalum. Dupont is the owner of Flux Studios in New York City as well as co-owner of Puremix.net, an educational website for production and recording techniques.
Sofia Ribeiro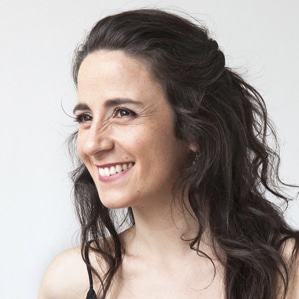 Born in Lisbon, Portugal, Sofia Ribeiro has a degree in jazz performance from Escola Superior de Música e Artes do Espectáculo in Porto, Portugal. During her studies she did a one-year exchange program in Barcelona at Escola Superior de Música de Catalunya, and another at Berklee. She was a student of Bob Stoloff and was awarded the Oliver Wagmann Memorial Scholarship. Later she received a master's degree in jazz performance with "great distinction" from the Royal Conservatory of Brussels, where she studied with David Linx.
Juan Andres Ospina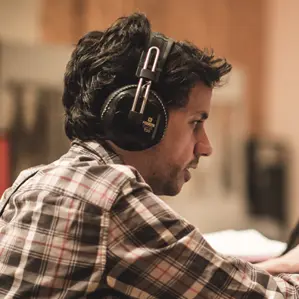 Pianist, composer, arranger, and producer Juan Andrés Ospina is one of the most active and prominent exponents among an outstanding generation of Colombian musicians. As a Berklee alumnus, he studied with musicians such as Danilo Pérez, Maria Schneider, Greg Hopkins, and Dave Samuels, among many others, and was a recipient of the Jazz Herb Pomeroy Award.
Miltos Pantelias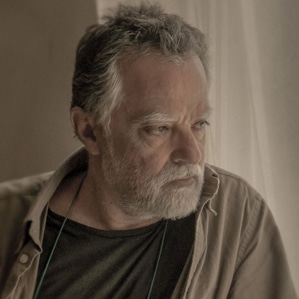 Born in Athens, Miltos Pantelias studied engraving and lithography at the School of Fine Arts in Paris. He is inspired by the mechanisms of memory, the past, and its recall and transformation into something new. Most of his artwork functions as monumental snapshots that release an aura with intense elements of nostalgia and lust, which is also reinforced by the characteristics of his art, the obsession with detail, and the quiet use of color.
Nicolas Ospina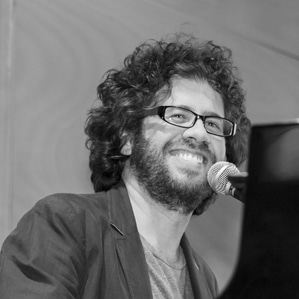 Nicolás Ospina is one of the most versatile and renowned musicians on the Colombian contemporary scene. He has played keys for the multiple Latin Grammy–winner Fonseca, the band Alé Kuma, and many other renowned artists including Antonio Arnedo and Tico Arnedo, Marta Gómez, Juan Sebastian Monsalve, Javier Colina, and Guillermo Klein.
Odile Gakire Katese
Odile Gakire Katese, who goes by Kiki, describes herself as a professional dreamer and a woman of firsts. She is a Rwandan playwright, director, and cultural entrepreneur. Currently, she is the director of the Woman Cultural Centre (WCC). She was the first recipient of the League of Professional Theatre Women's Rosamond Gilder/Martha Coigney International Award in 2011.
William Cepeda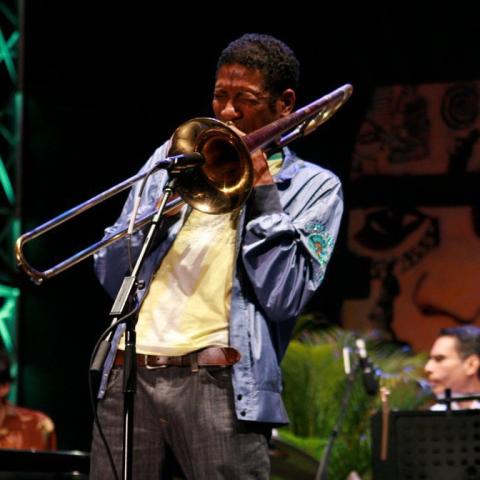 Known as a cultural icon in Puerto Rico, four-time Grammy nominee and composer William Cepeda was born and raised in Loiza, the heart of Puerto Rico's Little Africa. His work and research on Puerto Rican music, dance, and culture have earned him multiple awards, grants, and recognition. In 2013, Cepeda was awarded an honorary doctorate from Berklee College of Music.
Nona Hendryx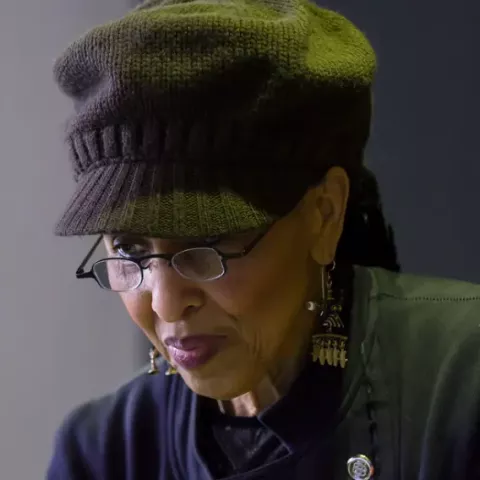 Nona Hendryx's legendary career spans six decades of sound and style evolution. Fans know her as a founding member of the girl group Patti LaBelle and the Bluebelles, inducted into the R&B Hall of Fame in 1999. She is currently ambassador for artistry in music at Berklee College of Music in Boston.
View video
Tin Men and The Telephone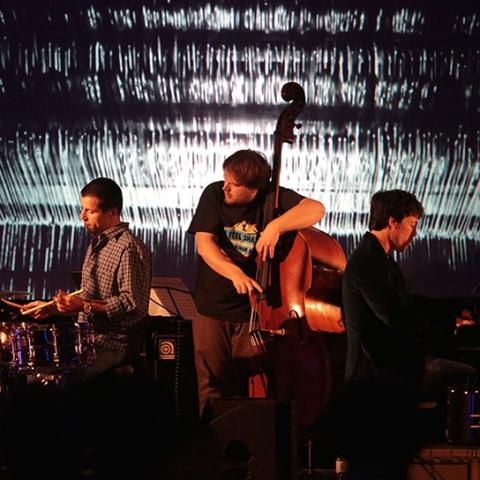 An Amsterdam-based jazz and improvisational band, Tin Men and the Telephone employ live electronics, projected visuals, and audience participation in their work. They incorporate their own groundbreaking technology (an app of their own design) to get audiences involved in their one-of-a-kind concert experiences.
View video
George Garzone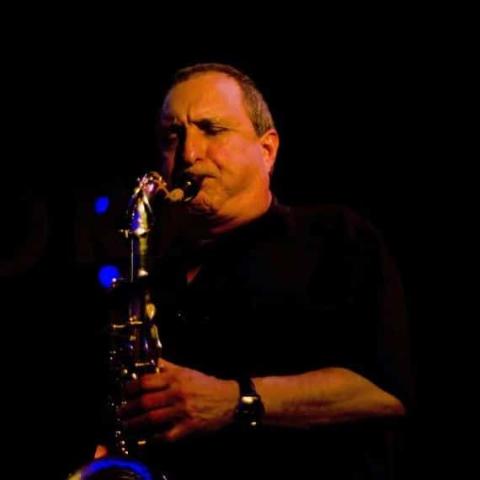 Saxophonist George Garzone is a member of the Fringe, a jazz trio founded in 1972 that includes bassist John Lockwood and drummer Bob Gullotti. A veteran jazzman, Garzone has appeared on more than 20 recordings.
Fernando González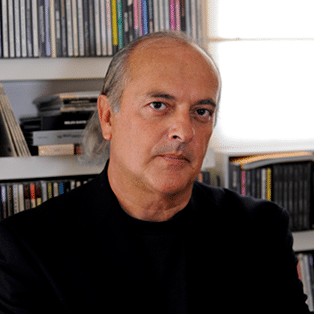 Fernando González is a Grammy nominee and an Emmy-winning arts journalist active in record production, teaching, radio hosting, and arts administration. He is currently working as the international editor at JAZZIZ Magazine, a media outlet that has been covering the music scene, documenting innovations, and charting industry trends.
Abraham Laboriel Sr.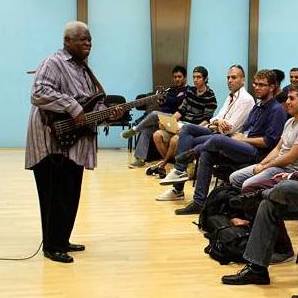 Bass extraordinaire Abraham Laboriel Sr. has been featured on more than 4000 recordings. Laboriel spent a few days with graduate and undergraduate students sharing his wisdom and knowledge on music and on life.
View video
William Bell, Al Kapone and Martin Shore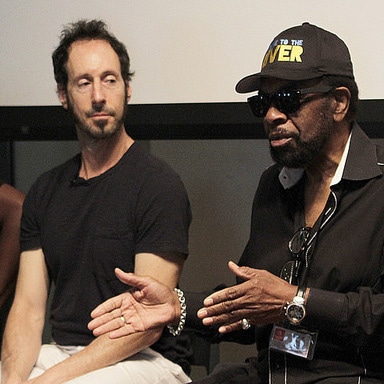 Berklee had the pleasure of hosting a residency by several members of the creative team from the award-winning musical documentary Take Me to the River, including Martin Shore, director; William Bell, songwriter and producer; and Al Kapone, rapper and producer. As part of this residency, students were given the opportunity to apply to attend a special songwriting and production workshop. Selected students received constructive feedback and advice on their own songs from experienced professionals.
View video
Melissa Aldana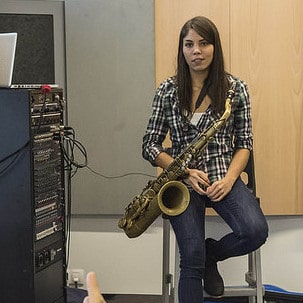 Berklee had the pleasure of hosting an inspiring improvisational techniques clinic with Chilean saxophonist and Berklee alumna Melissa Aldana. Aldana is a Concord Music Group recording artist and recent winner of the Thelonious Monk Institute of Jazz's International Jazz Saxophone Competition. She is currently making waves in the professional world and visited our campus to share her musical and career experience.
View video
Christiane Karam
Christiane Karam, assistant professor of voice at our Boston campus and founder and leader of the annual Berklee Middle Eastern Festival, visited our campus and dropped in on the graduate Middle Eastern Music Ensemble headed by saxophone legend Perico Sambeat.
Eddie Gómez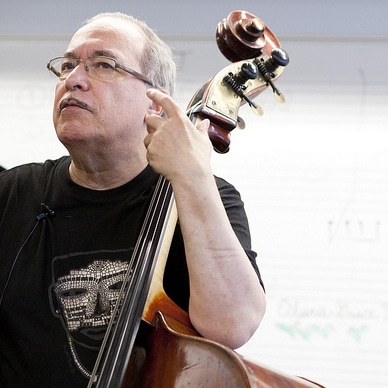 Legendary Puerto Rican double bassist Eddie Gómez visited campus to receive an honorary doctoral degree in a ceremony held at the Palau de Les Arts auditorium and to give some master classes to our students.
Miguel Zenón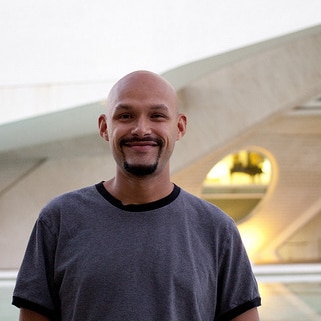 Multiple Grammy nominee, Guggenheim Fellow, MacArthur Fellow, and Berklee alumnus Miguel Zenón is widely regarded as one of the most groundbreaking and influential saxophonists of his generation. During his visit, he shared his musical journey, music composing process, and influences with students at our campus.
Pat Pattison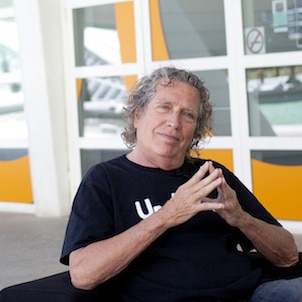 Pat Pattison gave one of his legendary master classes where he worked on the students' original songs, improving them by applying his stable/unstable technique. Pattison is one of the professors of Lyric Writing and Poetry at Berklee's Boston campus. He is also the author of Songwriting Without Boundaries, Writing Better Lyrics, The Essential Guide to Lyric Form and Structure, and The Essential Guide to Rhyming. Pattison also gave a clinic, Writing Better Lyrics, together with Clare McLeod.
Gergõ Borlai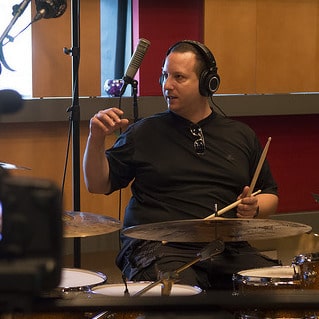 Visiting artist Gergõ Borlai and Berklee faculty Gary Willis did a recording workshop of "Watermelon Man" with contemporary performance students. They focused especially on drums and bass and how to navigate a real-world recording session by setting up the ideal recording environment, including mic selection and placement, playing to a click, and how to monitor yourself.
View video
Jim Kelly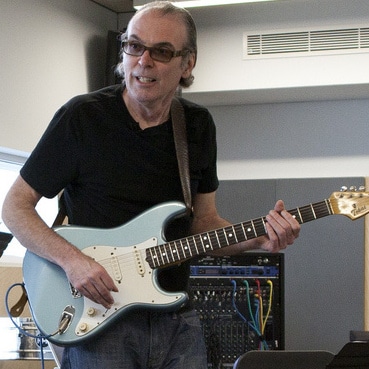 Visiting professor from our Boston campus's guitar department, Jim Kelly, visited Valencia and interacted with our students for a weeklong residency.
Béla Fleck and Abigail Washburn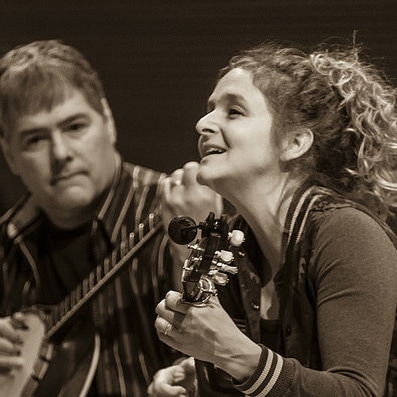 World-renowned banjo players Béla Fleck and Abigail Washburn visited campus to conduct a workshop with students in the contemporary performance (production concentration) master's degree program. The duo also offered a clinic to the entire student body. Fleck is widely acknowledged as one of the world's most technically gifted and innovative banjo players in the world, and has been a Grammy Award–nominee in more categories than any other musician in history.
View video
Yoron Israel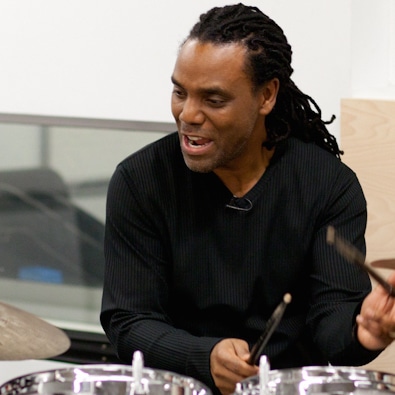 Yoron Israel is assistant chair of the Percussion Department at our Boston campus. He brings unique influences and experiences in jazz and various other musical styles having played with musicians such as Horace Silver, Sonny Rollins, Kenny Burrell, and Abbey Lincoln, among others. He spent a week at our Valencia campus, sharing ideas and guiding ensembles.
John Blackwell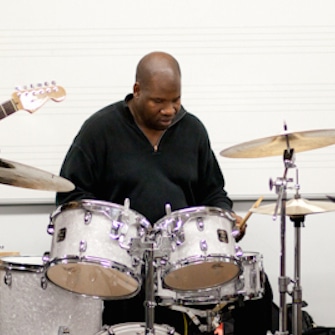 John Blackwell Jr. visited campus to offer a clinic to the entire student body. Blackwell is a recognized drummer and a Berklee alumnus. His recordings and performances include Patti LaBelle, Prince, the New Power Generation, Justin Timberlake, and P Diddy, among many others. Blackwell talked about his musical background, his Berklee years, and the importance of adding business skills to his professional career.
Joca Perpignan and Alon Yavnai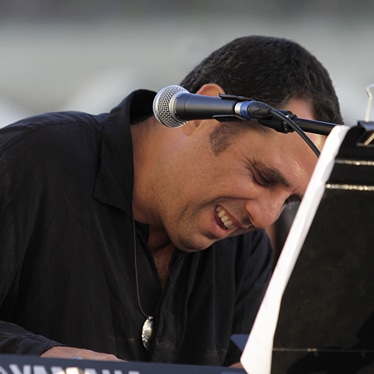 Master percussionist-songwriter Joca Perpignan and pianist Alon Yavnai visited campus to host a Brazilian rhythm and aesthetics workshop. The duo also talked about creating effective arrangements and creating a sense of space and variation when playing in a small ensemble.