Berklee Valencia Among Billboard's Top Music Business Schools
October 17, 2022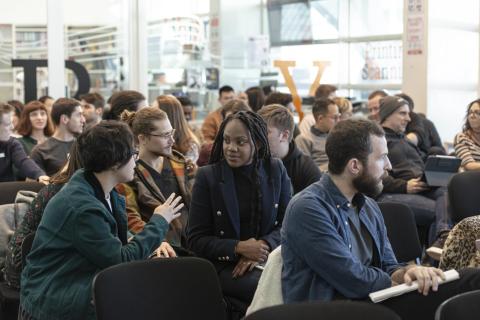 Berklee Valencia has been recognized by Billboard magazine as one of the best music business schools. The 2022 list includes 35 universities, ordered alphabetically, that were chosen based on industry recommendations, alumni information provided by honorees from Billboard's multiple power lists, information requested from each school, and nearly a decade of reporting on these programs. It is the second time that Berklee Valencia has been included on this list, ranking among the top five universities outside the United States.
The article focused on Berklee Valencia's yearlong Master of Arts in global entertainment and music business program, which attracts students from more than 30 countries on a campus with faculty from many different nationalities and backgrounds, providing a unique multicultural experience.  
Within the program, students can choose between three concentrations: live entertainment, entrepreneurship, and the record industry. For the development of these concentrations, students have the opportunity to be a part of the on-campus record label Disrupción Records; work on an annual agenda of events that includes the music and tech conference INO CON; and learn from guest speakers such as  Scooter Braun, founder of Ithaca Holdings/SB Projects, and Sophia Chang, a music producer and manager who helped guide the careers of Paul Simon and Wu-Tang Clan. Throughout the year, the program also hosts about 40 guests who share their knowledge and experiences with students.
Billboard also highlighted the opportunity for students to attend the Berklee Global Career Summit, a four-day boot camp that focuses on professional development and career paths through a series of keynotes, panels, workshops, and individual mentoring sessions with professionals of all backgrounds in the music industry. This academic year the Global Career Summit will take place January 17–20, 2023, and will open its doors to the public for the first time since 2019. Non-Berklee Valencia students who want to attend will need to purchase a ticket.
The magazine also mentioned the tremendous work students do in the Data Analytics in the Music Industry course, in which they examine real-world examples of how analytics significantly improve management decisions, strategies, and artist success. 
In addition to the global entertainment and music business program, Berklee's campus in Valencia offers unique training opportunities in the fields of contemporary performance (production concentration); music production, technology, and innovation; and scoring for films, television, and video games; as well as study abroad opportunities for graduate students and a summer program. The International Career Center on campus offers a wide range of internships and jobs within the industry and guidance to help students achieve their career goals.
Berklee College of Music is also included in the Billboard list in recognition of two of its undergraduate programs: the Bachelor of Music in music business/management and the newly launched Bachelor of Arts in music industry leadership and innovation.