Vanessa Garde Recruits Berklee Valencia Graduates to Score Hit Spanish Fantasy Film
February 3, 2019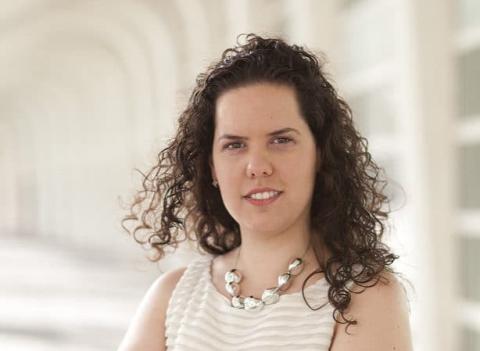 Film composer and former Berklee Valencia faculty member Vanessa Garde '10 enlisted the help of three graduates, Johnathan Booy M.M. '16, Ho-Ling Tang M.M. '17, and Nerea Alberdi M.M. '17, to score La gran aventura de los Lunnis y el libro mágico, a new fantasy film released in Spain on January 18.
The movie, directed by Juan Pablo Buscqarini, is based on the TV show Los Lunnis, which has aired on Spain's national channel, TVE, since 2003. It combines real-life characters, puppets, and animation, and targets a family audience with a focus on reading, fantasy, and imagination.
Garde, who graduated from Berklee in Boston and recently taught in Berklee Valencia's Master of Music in Scoring for Film, Television, and Video Games program, explains that one of the main reasons she selected the alumni was due to their familiarity with the technology used to compose, orchestrate, and program the score. "I needed full compatibility to open all sessions on Digital Performer and Vienna Ensemble Pro and to use the same libraries and plugins," she says. "I also knew [the graduates'] strengths, so it was matter of organizing the team properly."
A Team Made in Berklee Valencia
Tang and Booy started working on the programming and orchestration in August, and Alberdi, who was part of the orchestration team, started the last week of October. "I decided to get Johnathan and Ho-Ling on board after their work composing and orchestrating for animation [in the master's program] showed a really solid background. Nerea joined the project to do orchestrations for the final recording sessions. She is fast and really hard working and willing to do the final push. I was really fortunate to have such a talented and willing-to-help team. It really made the difference," says Garde.
Alberdi previously worked with Garde on a music project led by Berklee Valencia faculty member Sergio Lacima, and on the film Cuando dejes de quererme, scored by Lucio Godoy, director of the Master of Music in Scoring for Film, Television, and Video Games program. "Working with scores is probably the task that I enjoy most in the whole process," Alberdi says. "In this specific project, aspects such as dealing with the sequencer we've been working with, or importing information from the sequencer to the score, are some of the tasks I am able to perform thanks to Vanessa's class."
"I was responsible for transforming Garde's sketches into fully orchestrated music and transferring that into scores," Tang says. "The music was very versatile and animated. I honestly enjoyed every part of it because Vanessa gave us time and freedom to fully enjoy the process and experiment with a lot of different orchestral colors." As the project developed, time became increasingly scarce, but "even at the busiest of times, Vanessa was incredibly clear in expressing her vision for each cue," Booy says.
A Remote Workflow
Even though the team members worked from different parts of the world (Garde in Los Angeles and Madrid; Alberdi in Bilbao, Spain; Booy in Vancouver, Canada; and Tang in Hong Kong), the workflow wasn't affected; on the contrary, Booy says, this actually benefited the project: "Those time differences ended up really helping us when the project got underway because we were able to work around the clock as a team."
"It's pretty usual nowadays," adds Alberdi, "as long as technology allows you to carry out a music production with a remote work team." Even so, Tang stresses that it was key to be highly organized and accurate: "That's one of the things Berklee kept emphasizing when we were studying, so I was really glad to learn these skills before I started working in the real world."
Garde shares that the alumni exceeded her expectations. "Their attitude was excellent. They always tried to see if they could help with other tasks that weren't assigned to them when they finished theirs. I was a bit hesitant at the beginning since we were working remotely, but they responded like true professionals," she says.
The former faculty member says she is confident that she will continue recruiting Berklee Valencia alumni for future projects. "I was given opportunities from Berklee [that helped me make] connections when I graduated, so if I can be that person to some of Berklee Valencia's alumni, that makes my day," she says. "The talent is there. Now it's time for them to get some exposure, and for the world to discover them."