Berklee Valencia Welcomes 290 Students from 47 Countries
January 9, 2023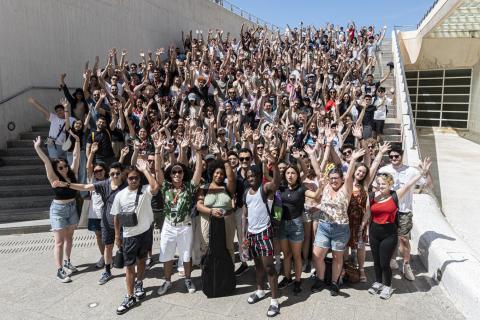 Berklee Valencia kicked off its fall semester on Monday, August 28, by welcoming 290 students from 47 countries, including the United States, China, Spain, England, Canada, Colombia, India, Mexico, Ireland, Argentina, France, South Korea, New Zealand, Serbia, and Turkey, among others. The 2023–2024 student body comprises 140 graduate students and 150 undergraduate students who came to Valencia through the Berklee Study Abroad and First Year Abroad exchange programs, including 11 from Spain, five of them from the Valencian autonomous community.
During the academic year, Berklee's first international campus will offer a wide array of free concerts, including the series Un Lago de Conciertos in partnership with the City of Arts and Sciences; Berklee a Les Arts, an ongoing collaboration with the Palau de les Arts that offers the audience new meeting points for music and other artistic disciplines related to the pieces performed at Les Arts opera house; and Berklee Valencia's commencement concert, La Nit de Berklee.
 
In January 2024, Berklee Valencia will host the Global Career Summit. At the event, visiting experts will help students and other non-Berklee attendees with their professional development through a series of panels, workshops, and individual mentoring sessions.
 
With a unique curriculum as well as an international career center, the Valencia campus offers Berklee's first graduate programs in music production, technology, and innovation; contemporary performance (production concentration); scoring for film, television, and video games; and global entertainment and music business. More than $1.6 million in scholarships have been awarded to graduate students for this academic year. 
Berklee's pioneering campus in Valencia, Spain, is designed for globally minded students who want to pursue international careers in a variety of contemporary fields. Located in the iconic City of Arts and Sciences, the campus provides its students with the environment, facilities, and faculty expertise to help them develop their skills and succeed as future professionals and leaders in the music and entertainment industries.