Berklee Valencia Supports Female Talent with Outstanding Women Scholarships Program
October 14, 2019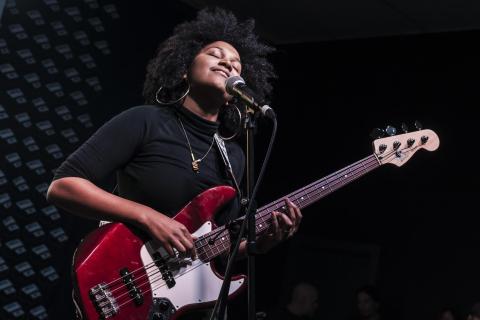 This opportunity will be available for four students next year and will increase to a total of $120,000.
Berklee's campus in Valencia, Spain, will again award the Berklee Outstanding Women Scholarship, aiming to assist women in accessing music studies and pursuing a professional career in music, and empowering them to balance the presence of women in the industry. The award amount can go up to $30, 000 (70% of tuition costs) and includes a mentorship session with a renowned woman working in each of the fields covered by Berklee's programs. 
"The  Berklee Scholarship for Outstanding Women is a unique opportunity for gifted, talented women, with leadership potential, to contribute to the Berklee community and to the music industry," said Maria M. Iturriaga, executive director of Berklee Valencia. "We look forward to meeting new talents every year that can benefit from this scholarship, increase diversity on campus, and help to bridge the gap between genders in the industry."
Mentors for the class of 2020 include top-notch professionals such as Yvette Noel-Schure, a public relations executive, publicist for Beyoncé, and vice president of Schure Media Group; Rachel Portman, the first female composer to win an Academy Award for film music with her score for Emma in 1996; Sylvia Massy; renowned record producer, mixer, engineer, and educator known for her work with Tool, Johnny Cash, Prince, System of a Down, and the Red Hot Chili Peppers; and Magda Giannikou, singer, composer, producer and director of the Master of Music in Contemporary Performance, Production Concentration. The mentors for the next academic year will be confirmed soon. 
This autumn, the scholarship's four recipients included entering students Michelle Raymond (M.A. in Global Entertainment and Music Business), Aimee Alexander (M.M. in Scoring for Film, Television, and Video Games), Lisa Murray (M.M. in Music Production, Technology, and Innovation) and Song Ah Chae (M.M. in Contemporary Performance, Production Concentration). 
"Berklee has fantastic initiatives in place to make female students feel capable and empowered to pursue their passion," said Lisa Murray. "This scholarship is a fantastic channel to connect women working in music. The more we connect and encourage women to work together in this field, the larger our impact and imprint into the music industry will become." 
To be eligible for the scholarship, female candidates must be accepted to one of Berklee Valencia's graduate programs. They must also demonstrate musical talent, academic excellence, outstanding achievements, and commitment to the musicianship and leadership of women in music.