Berklee Valencia Graduate Composes Score for New Disney+ Documentary
May 2, 2022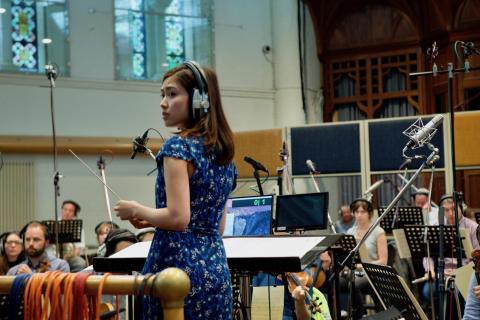 A graduate of the Master of Music in scoring for film, television, and video games program, Tang composed the score for the Disney nature documentary Bear Witness, which premiered on Disney+ last Friday, April 22, in celebration of Earth Day.
 Bear Witness offers a behind-the-scenes look at the treacherous journey of the filmmakers behind Polar Bear, another Disney documentary that premiered the same day. Tang also created music for Polar Bear, which is narrated by two-time Oscar winner Catherine Keener.
 Filming polar bears in harsh environments is challenging enough; throw in the complications from global warming, and the stakes are much higher. "The climate has become a lot more unpredictable and made the filming process even more difficult than before," Tang said. 
 For Bear Witness, Tang had to write around 50 minutes of orchestrated music in less than three weeks. She collaborated with the film's co-director Jeff Wilson and editor Gillian Taylor to highlight emotional moments in the story—beautiful at times and dangerous at others—to take the audience along for the journey.
The recording process took her across the world to record live orchestras in renowned studios, from Abbey Road in London to Four for Music in Bulgaria. Though it was challenging, the skills Tang gained at Berklee Valencia, including "producing a great-sounding mock-up and preparing for recording sessions," helped her navigate the process.
Tang says her live recording sessions on the Valencia campus helped her gain the confidence to lead the film's studio sessions. "I feel very prepared, and I know exactly what to listen for and what notes to give," she said.
She found the live recording process to be the most rewarding aspect of her work, as she had the opportunity to witness her music come to life for "a project with a beautiful and meaningful message."
 "Composers usually spend so many hours in front of the computer working and writing, but performing the scores with other musicians has reminded me of how music is [meant] to connect and to communicate with other people," Tang said.
Becoming an All-Star in Hollywood
 The confidence Tang gained at Berklee Valencia helped her break into the Los Angeles film industry—and got her portfolio into the hands of an A-list film composer.
 Her rigorous master's degree program, with five courses per week and projects due weekly, helped prepare her for the fast-paced, competitive environment of Los Angeles. And skills such as mixing music and creating mockups and sample libraries, which she learned from Berklee Valencia faculty Vanessa Garde and Pablo Schuller, are ones she uses daily.
She also credits the wide range of music styles she learned in her courses with helping her develop a unique sound. "Berklee really encouraged us to be ourselves, instead of trying to be a copycat of John Williams," she said.
Tang used her musical training, her growing portfolio, and her culminating experience (called "Eternity") to get her foot in the door. She was also nominated for a Hollywood Music in Media Award and was a finalist in the Berlin International Film Scoring Competition.
After landing a composing internship in L.A., Tang was accepted into the Sundance Institute Film Music and Sound Design Lab. During the Sundance Film Festival, renowned film composer Harry Gregson-Williams provided her with one-on-one mentoring sessions.
That's when Tang decided to take the risk of a lifetime: She offered to be Gregson-Williams's assistant when he mentioned his previous one had resigned.
"[Gregson-Williams] thought about it for a day, and after that, he came back to me and said, 'I'm interested in letting you try it out,'" Tang said. She's now been Gregson Williams's assistant for two years.
The composer—known for his work on the Shrek franchise—expects high-quality production assistance but encourages Tang to lead her own composing projects.
This has helped her gain credits in blockbuster films and popular TV series, including Ridley Scott's House of Gucci and The Last Duel, HBO Max's The Gilded Age, and the recent Disney+ movies.
As she continues to work hard and make her mark on the industry, Tang remains inspired by the films she works on. This inspiration and her love for composing music motivate her to contribute to important projects that expand film history and entertain audiences.
"I want to be in all the amazing productions," Tang said. "I want to be able to participate in something that a lot of people are going to enjoy, so that's why I decided [Hollywood] is the place for me."