Taking Shape: Dana Fakhoury M.M. '19 Adapts Valencia Experiences to Build Music Career
November 29, 2021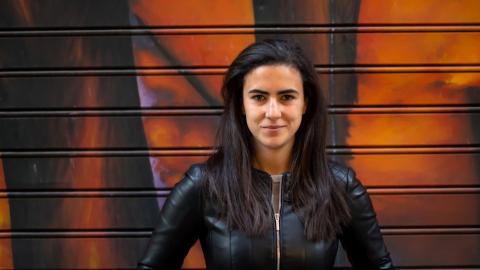 For many students, excelling in their studies is the only task on their weekly agendas. They stick to the coursework and remain hyper-focused on fine-tuning details and hitting all the points on a rubric. However, during her time at Berklee Valencia, Dana Fakhoury M.M. '19 prioritized extracurriculars, which molded her career as an electronic music producer and artist who performs under the stage name Earlybird. 
"It was the extra work that I was doing that made the experience better, and that really shaped who I am today," says Fakhoury.
A graduate of the Master of Music in music production, technology, and innovation program, Fakhoury used much of her time outside of the classroom to diversify her skills and branch out from music composition. While she was a student in the Transition Ensemble course, she served as the head of sound and tech at Sofar Sounds Valencia—the culminating experience/thesis of Berklee alumna Saria Tourbah M.A. '19.
Fakhoury credits Ben Cantil, the associate professor who led the ensemble, with helping to transform her performance style and encouraging her to keep the music playing so that the audience will remain engaged. "My show never stops even if I'm talking," she says. "The music is going down, there's a transition, and I'm playing at the same time."
Meanwhile, her time at Sofar Sounds shaped her off-stage work for other artists, which includes managing PR and hiring and leading a team of sound engineers. Fakhoury also helped other Berklee students engineer and mix electronic music and sound design, and worked with them to prepare their sets.
As her CV grew outside of the classroom, Fakhoury continued to excel in her studies. She remembers her time at Berklee Valencia as an opportunity to collaborate with a "truly international campus"—an opportunity years in the making. 
The expert guitarist with an undergraduate degree in graphic design tested the waters in music production and audio engineering as a student in one of Berklee's summer programs in 2014. She says that's where she "fell in love with production right on."
Her graphic design degree proved beneficial in her music career as she creates her ads and develops her marketing schemes using these skills. Overseeing her image, PR, marketing, management, and music production has allowed her to become the artist she wants to be.
After looking into several different music production colleges, Fakhoury found Berklee Valencia to be the perfect fit. When she arrived on campus in 2018, she found a rigorous program that matched her advanced skill level and provided the modern technology necessary to produce high-quality music. "I always felt like Berklee has the best equipment, the best teaching environment, and the learning environment was a really international school, not just by name," Fakhoury says.
Fakhoury's drive to use cutting-edge technology to create her music continued throughout her career. After catching the ears of the organizers of Expo 2020 Dubai, she was invited to perform at the event, treating expo visitors to her chill electronic sets in the Opportunity District, one of the expo's three main districts. The gig has led Fakhoury to experiment with Asian music and add it to her performances, and provided opportunities to meet and collaborate with other international music artists, play different instruments, and test out different kinds of technology.
Fakhoury's performances at Expo 2020 Dubai follow years of tremendous change in the music industry, which she says Berklee and the International Career Center—who she says are her "next best friends"—had prepared her for during her studies. International Career Center representatives helped her brainstorm ideas, offered thoughtful feedback and constructive criticism, and taught her how to network effectively. 
Most recently, Fakhoury used these lessons to adapt to challenges brought on by the COVID-19 pandemic, as performing switched to online platforms and then back to in-person shows, and to help her adjust to other industry changes such as transforming algorithms, business models, strategies for releasing music, and music tones. 
To succeed in this ever-changing industry, Fakhoury encourages music students to avoid missed opportunities, know their rights and music business laws, and avoid copying trends. She says, "Make sure you're authentic as an artist and in how you present yourself for people to believe, follow, respect, and share you, and feel like they're connected to you as an artist."
These tips have helped her flourish as an artist, developing her own image, fanbase, and notoriety along the way. They have set her up for continued success—most notably, her special performance during the UN Global Compact Leaders Summit in June and the releases of an EP, Soft Colors, last December and the music video for her song "Ombre noire," which was featured in Rolling Stone India. 
Fakhoury recently returned to composing new music from her home in Lebanon, taking inspiration from her native country in her upcoming work, which includes collaborating with popular Lebanese recording artist Oumeima El Khalil and Lebanese qanun player Ghenwa Nemnom to reproduce an old Arabic track with modern technology. 
Fakhoury is also stepping into a co-producing and mixing role for undergraduate student Anne Noor and her upcoming EP after the two met on the Valencia campus. She looks forward to updating old performances and organizing new ones, applying the lessons she learned as a Berklee student, as she continues to find success in her music career.