Persistence: How a Berklee Valencia Master's Student Broke into the International Music Industry
July 26, 2022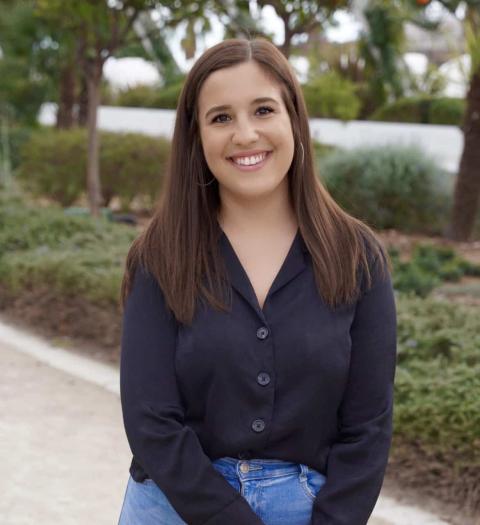 For Amodeo, the decision was a no-brainer. "I had dreamed about going to Berklee for years because one of the professors from my [undergraduate] university had gone there and always talked about it," she said, "and I thought it was just so cool to go to one of the best music schools in the world." 
Amodeo entered the master's program hoping to build on her perspective of the music industry outside of Canada while also growing her international industry network and experience. She wanted that experience to come from a role on the executive team of the campus's student-run record label, Disrupción Records.
Amodeo successfully executed her plan. She excelled in her studies, gaining valuable knowledge in her A&R and Data Analytics courses, and was chosen to serve as head of operations and project manager for Disrupción, working alongside her friend Laure Herouart M.A. '21, the label's former CEO. 
Through this experience, she learned how a label operates from a higher level, how the label's different departments work together, and how to improve her presentation skills. Amodeo said the expertise prepared her for her first job after completing the program, as a digital marketing coordinator at Sony Music Entertainment in the U.K.
Then, in July 2022, Amodeo landed the role of manager for international label management at Warner Music Group's music distribution company ADA Worldwide. Reflecting on the challenges that led up to this new role—the many months of denied job applications before she was hired at Universal Music Group prior to attending Berklee Valencia, the daily uncertainty of attending graduate school during the pandemic—she stressed the importance of staying persistent. She said that "taking the noes as they come " and  "remembering why [she] loves music" were vital to her eventual success in finding her dream job. 
Amodeo suggests that current students in the global entertainment and music business program continue applying "for tons of jobs and connecting with as many people as possible, because the more people you connect with, the more you'll be able to learn about how the industry works and what you really want," adding that "maybe those connections could get you a job down the line."
Confidence Sparks Innovation
During her year at Berklee Valencia, Amodeo bonded with her classmates; now, she calls some of them her "best friends for life."
"I've never been around so many like-minded people at the same time—so many people that were just so passionate about music and that was their life—so it was cool to experience," Amodeo said. She also learned much more about herself, which allowed her to reenter the music industry with more confidence.
That confidence motivates Amodeo to remain creative in her roles by staying on top of music industry trends, brainstorming ideas, and collaborating with her manager, coworkers, and company partners to test new ideas and bring them to life. "The most important thing is talking to different people, learning from others, and collaborating, because that's where a lot of the best innovative ideas have come from", Amodeo said.
One such idea led to a major accomplishment for Sony Music Entertainment at the end of last year. Amodeo worked on a project in December that involved a customer relationship management (CRM) system tool designed as a Christmas calendar, with doors for each day that were packed with exclusive releases, giveaways, and partnerships with other brands, including the U.K.-based music and entertainment retailer HMV. The campaign was a huge success—it engaged fans in a unique way and collected useful CRM data to inform future campaigns. According to Amodeo, Sony said it was "the best performing campaign they had across the platform the entire year."
Amodeo plans to carry this innovative and data-centric mindset into her new role at Warner as she aims to discover new types of music services and develop partnerships in emerging markets. But she says that it's thanks to Berklee Valencia that she can make this work her career.
"I definitely don't think I would have gotten the international job I just got without Berklee, because the education it gives you to understand the global music industry and understand so many high-level aspects of the industry, and having those international connections, is really impressive to employers," Amodeo explained. 
"I'm very grateful for the experience, and I think that a lot of people will say that it helps their career path in the long term."