Due to renovations and the expansion of the Berklee Valencia Campus, the recording studios will be unavailable to use for summer 2024. Therefore, the recording session that usually occurs as part of the Recording Musician Ensemble will not take place in 2024. We will, however, be adding other exciting and engaging activities to the program. Please stay tuned for more information.
The curriculum consists of three core courses with additional cocurricular and optional activities designed to develop the participant's overall musicianship and performance skills. Students will complete a Musical Background Form prior to the start of the program; this will aid in placing students in the appropriate sections depending on the principal instrument, music style preference, and music level and ability. Students participating in the Spain Summer Performance Program may receive three college credits, one per core course, by earning a grade of B or higher.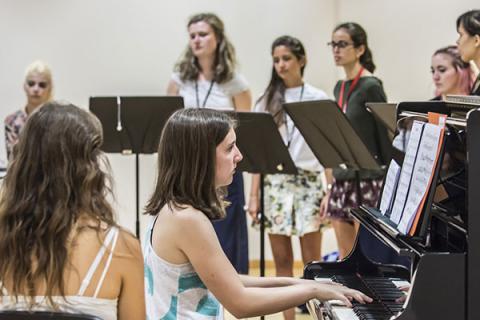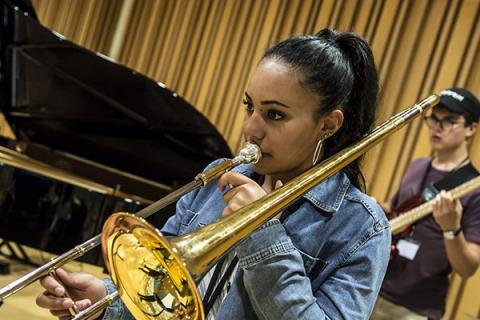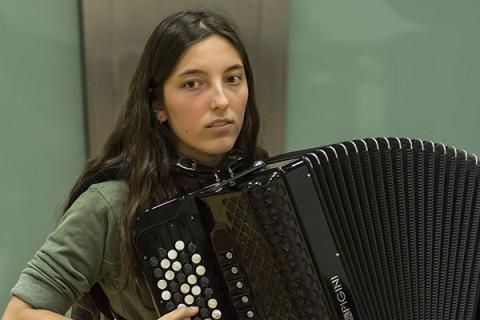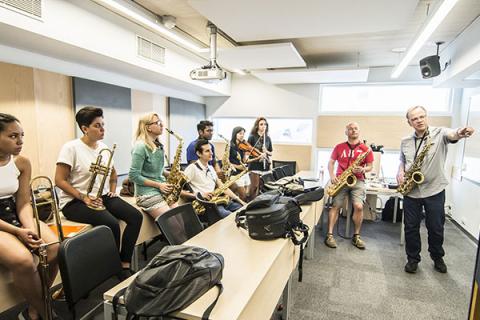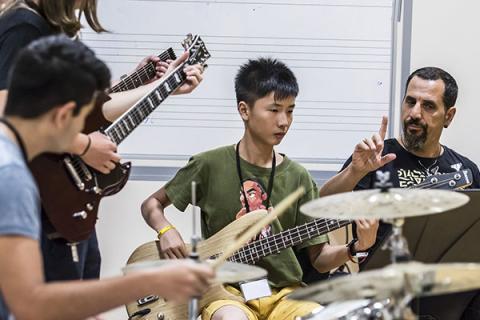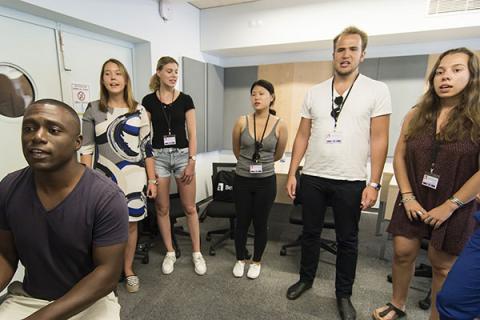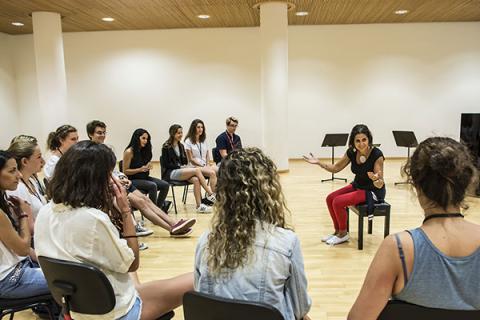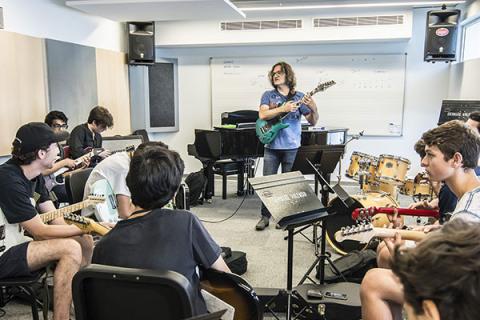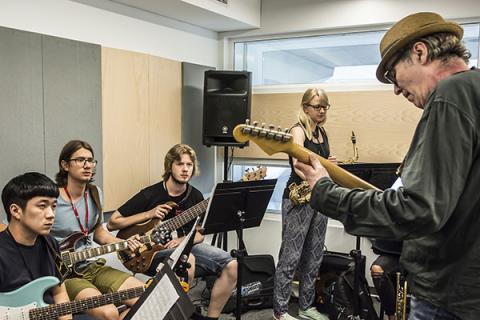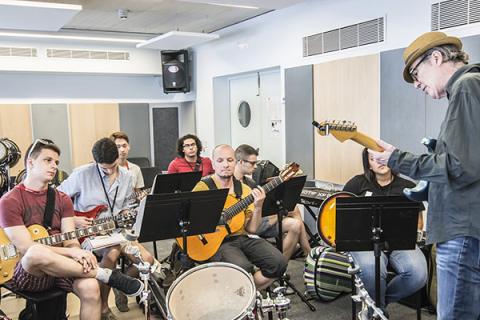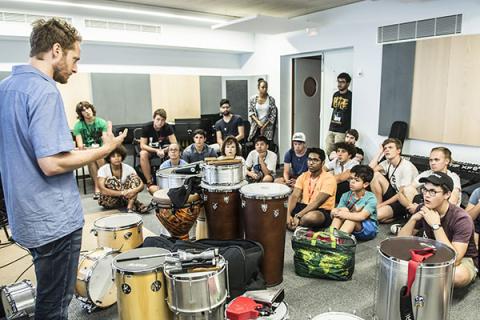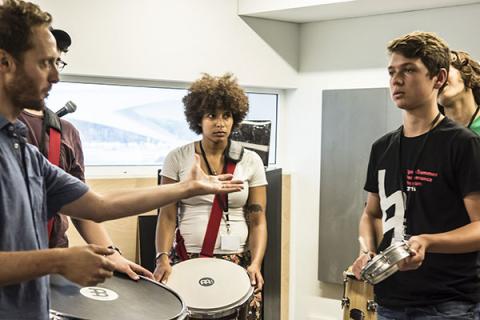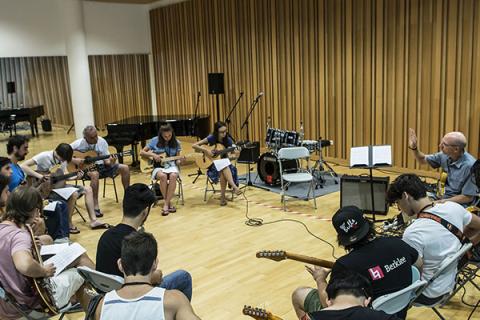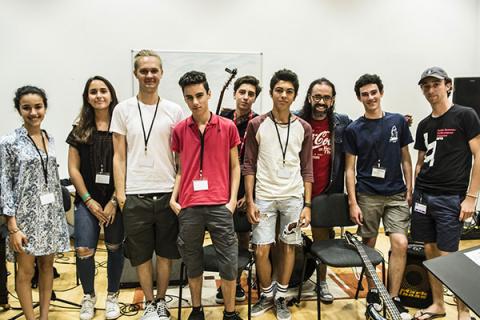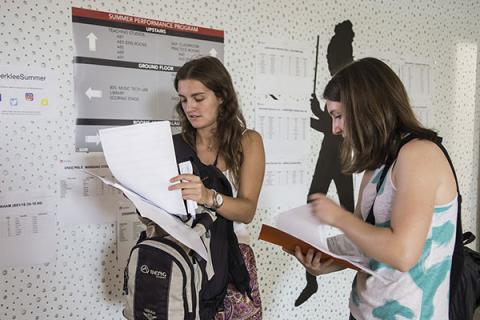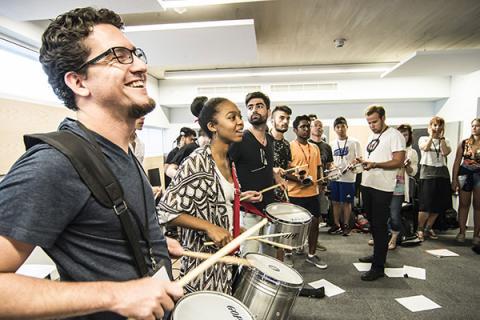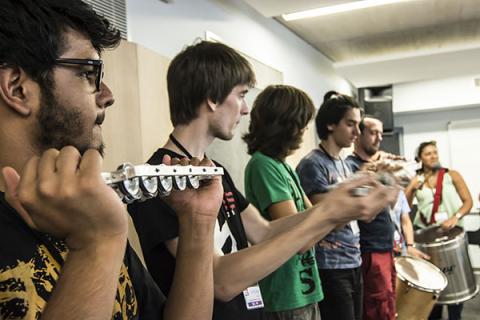 Core Course Descriptions
Musicianship (& Theory Course)
1 credit, 1 ½ hours each session, 12 hours total
This course introduces fundamental studies of musical concepts such as ear training, harmony, composition, and styles. Students develop basic musicianship skills (the ability to read, write, remember, and improvise music) and perform and transcribe music from a wide variety of styles. Students complete class activities that include theoretical explanations, playing demonstrations, and listening to and analyzing relevant performers. Students are placed into sections based on their level of experience ranging from 1-5. Depending on the enrollment and overall level of students, some sections may be mixed levels.
Level 1: Beginner with little to no previous experience with reading music and music theory concepts.
Level 2: Beginner with developing experience reading music and understanding chords and music theory. Basic level of improvisation (pentatonic and blues scales).
Level 3: Intermediate. An understanding of basic musical principles, in the process of developing reading melodies and chords. More familiarity with improvisation scales and modes.
Level 4: Intermediate /Advance. Comfortable reading and writing melodies and chords. Able to use modes for improvisation.
Level 5: Advance; Fluent in reading and writing music. Fluent with key signatures intervals, chord spelling, scales, and modes.
Instrument Seminar
1 credit, 1 ½ hour per session, 12 hours total
Students will be trained in groups based on their principal instrument to understand the function of their instruments within the context of contemporary music genres as well as in the framework of ensembles of diverse configurations. Through practice and discussion on the study and learning strategies on their own instrument, students will also achieve an understanding of the role of the instrument in the context of each musical genre and will work on strategies to develop musical arrangements. Depending on the enrollment and instrument breakdown of students, students may be placed in groups of similar instruments such as percussion, brass, woodwinds, and keyboards. NOTE for EDI students: Availability for EDI-only seminar is dependent on enrollment. EDI students may be placed with keyboard students or placed in another instrument seminar based on a secondary instrument of choice.
Recording Music Ensemble
1 credit, 1 ½ hours per session, 12 hours total
In this course, students will immerse in an ensemble setting that will work towards achieving experience in understanding the recording (and performing) process from rehearsal to recording, from the perspective of both the studio as well as the at-home musician. Ensemble groups are usually mixed styles and levels of experience. Examples of styles include contemporary, jazz, pop and rock, funk/fusion, pop/R&B, salsa/Latin, and world music. Students will have the opportunity to experience a state-of-the-art recording studio by recording a song with their ensemble. Ensembles will also perform in Berklee Valecia's Lago de Conciertos as a culminating experience.
Cocurricular Activities
Industry Workshops, Labs
In addition to the core curriculum, there are additional cocurricular activities meant to complement the core curriculum. Industry workshops and labs are designed to explore current topics and "trends" in the industry that deepen a student's overall understanding and musicianship. Students are expected to attend at least three workshops or labs as part of the musicianship course.
Recording Sessions & Performances
As part of the ensemble core curriculum, students will have the opportunity to record a song with their ensemble in our state-of-the-art recording studio. All students will also perform with their ensemble in the Lagos de Conciertos. The Lago de Conciertos happens on a floating stage, in front of the Príncipe Felipe Science Museum in the City of Arts and Sciences, where the campus is also located.
Lagos de Conciertos Flickr Album
Optional Activities
During the evening hours from 7:00 p.m.–9:00 p.m., students may participate in optional activities such as jam sessions or open mic nights. These activities are designed to enhance students' performance opportunities and are run by our Spain Summer Performance Program group leaders. Specific activities will be announced each week and students will be required to sign up in advance.