María Martínez Iturriaga Receives Best Executive Director Award at Premios Mujeres Empresarias
December 1, 2022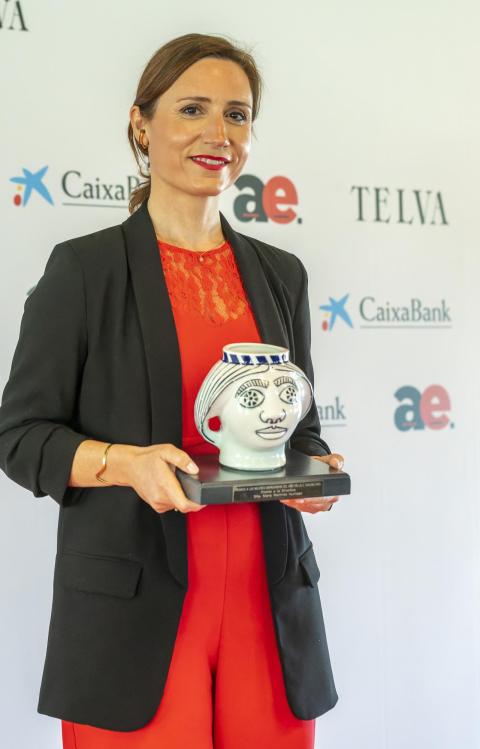 On Monday, November 28, María Martínez Iturriaga, Berklee's senior vice president of international learning environments and executive director at Berklee Valencia, received the Best Executive Director Award at the Premios Mujeres Empresarias (Women in Business Awards) of the Valencian autonomous community. The award was presented by the Spanish renowned publications Telva and Actualidad Económica at a ceremony that took place at Las Arenas, in Valencia, Spain.
The awards recognize the best female entrepreneurs, executives, and professionals in the region. Other awardees included Rosa Perán, executive vice president of Pikolinos: Best Career Award; Ángela Pérez, vice-president of Life Science Health in Code: Best Innovative Businesswoman; and Leticia Valera, president of NGO Kassumay and Vaya Tela Leticia: Solidarity and Philanthropy Award.
Upon accepting the award, Iturriaga thanked Unidad Editorial, the parent company for Telva and Actualidad Económica, for this award and for providing visibility and celebrating female talent and congratulated the awardees for their work.
"You are an example, a role model for upcoming generations of women, and I am touched by this celebration of female talent," Iturriaga said.
Iturriaga also thanked Berklee for trusting her 15 years ago to launch the Valencia campus and for all the opportunities the institution has offered since then.
"It is an institution that has allowed me to grow by having great references, men and women—examples that have given me opportunities to continue developing as a professional and as a person, and that instilled in me the need and the responsibility to analyze our decisions with a gender perspective," she said.
Iturriaga closed the speech with a recognition to the Valencia team: "I am lucky to be accompanied by great women leaders who have taught me to lead from vulnerability, reflection, empathy, and courage, but above all to lead from the notion that we all have the responsibility to create a space of respect and understanding that brings out the best in us every day."
The ceremony closed with a speech from Ximo Puig, president of the Valencian Government, who thanked all the awardees for their "tireless efforts to break down real and mental boundaries in business." He highlighted their professional achievements and their contribution to equality, and how their careers are an inspiration for the next generations.