Lila Downs Receives Honorary Doctorate at Berklee's Campus in Valencia, Spain
July 14, 2020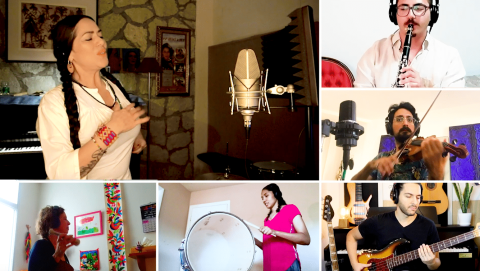 Berklee Valencia presented an honorary Doctor of Music degree to singer, songwriter, composer, actress, and activist Lila Downs during the campus's virtual commencement ceremony on Saturday, July 11. Graduate students, together with Downs, performed a tribute to her music as part of the ceremony. 
A native of Oaxaca, Mexico, Downs is one of the most respected artists in Latin America. Known for her charismatic performances and unique voice, she bridges traditions from across the Americas. Downs has garnered numerous accolades for her studio albums and duets during her more than 25-year career, beginning with her 1994 debut, Ofrenda, through to her latest release, 2019's Al Chile. She took home the Grammy Award for Best Regional Mexican Music Album in 2012 for Pecados y milagros, and has won five Latin Grammy Awards—including four in the Best Folk Album category.
Addressing the class of 2020, Downs, a passionate human rights activist known for championing Latin America's indigenous populations, stressed music's power to uplift and bridge cultural divides. "I learned over time how music can help us better understand the challenges of society and culture, how a song can break barriers and bring people together from all walks of life," said Downs. 
"I am proud to be part of a movement in music to remind people of the courage and beauty their ancestors carried...it has continued to surprise and humble me to see younger generations look to indigenous and folk roots to express long-forgotten pride," said Downs. "I invite you to think about life as this one time that we get to live, do, and play. The opportunity is here, and you are invited to take it. Jump in and find your voice. You are ready."
In presenting the honorary degree, María M. Iturriaga, executive director for Berklee Valencia, praised Downs for "her contributions to the creative community through her human rights activism," adding that her "multifaceted career is a true testament to Lila's unique talent to bridge music and history with today's social and cultural realities. Lila has become a true role model for artists of all backgrounds and for the new generations of creators to come."
"Creativity is one of the great gifts that you bring to the world," said Berklee President Roger H. Brown in his congratulatory remarks. "I think there is no better way to make the world better than through creative compassion, believing the world can be better, being determined to make it better, and to use your art, your music, and your personal example of being a compassionate, loving human being to make it so. Let your artistry, your commitment to the world, your dedication, and your creativity flourish, and make something happen that didn't happen before. Go out there and change the world."
At the commencement ceremony, 143 graduates from 38 countries received Master of Music degrees in music production, technology, and innovation; scoring for film, television, and video games; and contemporary performance (production concentration); and Master of Arts degrees in global entertainment and music business.
Berklee's honorary doctorate recipients are recognized for their achievements and influences in music, and for their enduring contributions to American and international culture. Past recipients include Duke Ellington (the first, in 1971), Aretha Franklin, Dizzy Gillespie, Quincy Jones, Smokey Robinson, Steven Tyler, Loretta Lynn, Juan Luis Guerra, Annie Lennox, Paco de Lucía, Carole King, Willie Nelson, George Clinton, Rita Moreno, Lionel Richie, A. R. Rahman, Justin Timberlake, Missy Elliott, John Legend, Sheila E., and Cassandra Wilson. Honorary doctorates have previously been awarded at the Valencia campus to Eddie Gómez (2013), John McLaughlin (2017), Al Di Meola (2018), and Imogen Heap (2019).