John McLaughlin Receives Honorary Doctorate as Berklee's Valencia Campus Hosts Fifth Commencement
July 13, 2013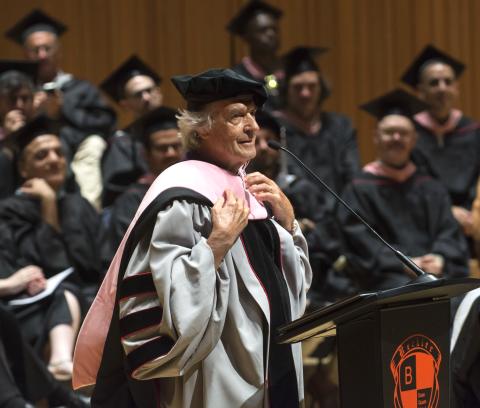 At the Palau de les Arts Reina Sofia on Monday, July 10, graduating master's degree students at Berklee's Valencia, Spain campus recently celebrated their commencement with a concert and a ceremony at which Berklee President Roger H. Brown presented an Honorary Doctor of Music degree to legendary guitarist, composer, and pioneering bandleader John McLaughlin. The 137 new graduates, hailing from 30 nations, received a mix of master of music degrees in Music Production, Technology, and Innovation; Scoring for Film, Television, and Video Games; and Contemporary Performance with a concentration in production; or master of arts degrees in Global Entertainment and Music Business.
The commencement ceremony came after a commencement concert in Valencia, La Nit de Berklee, which attracted thousands of attendees to the Hemisfèric on Saturday, July 8. The concert, supported by Fundación Bancaja, Yamaha, COPE Valencia, and Mapfre, was part of the campus' first-ever alumni reunion, which drew performers, composers, producers, and other creators and music industry professionals from around the world.
The concert bill featured performances by McLaughlin, DJ sets, and original student compositions such as Steve Umculo's "Answer" before culminating in a medley of Leonard Cohen's "Hallelujah," George Michael's "Freedom," and Chuck Berry's "Johnny B. Goode"—honoring three of the many musical icons who passed away during the academic year.
Watch John McLaughlin's performance with graduate students at the Commencement Concert:
After receiving the honorary doctorate, McLaughlin, the jazz fusion virtuoso whose extensive work as bandleader is complemented by his work with fellow luminaries such as Miles Davis, Chick Corea '97H, and Paco de Lucia '10H, told the students, "The role of music is today what it has always been in the past. It is the universal language of love, both human and divine. Music is our highest form of collective unity, since in any given concert there will be Christians, Hindus, Muslims, Buddhists, and atheists, all under one roof, enjoying music."
McLaughlin shared his thoughts on the centrality of jazz, noting, "From its early beginnings, jazz was—and is today—an integration of musical cultures" and stating that "jazz can truly be given the crown of global music" given its influences in Central and South America, the U.S., Asia, and the Middle East. McLaughlin was at the forefront of the cross-cultural jazz surge of the 1970s, drawing on Indian music influences with the Mahavishnu Orchestra and Shakti.
Watch the Berklee Indian Ensemble and Shankar Mahadevan perform McLaughlin's "Five Peace Band":
McLaughlin found valuable life lessons for the graduates in the improvisatory nature of jazz, saying, "In life, we are improvising constantly," just as in jazz. He added, "Jazz has been, from the outset, a way for artistic freedom, for personal and collective liberation that demands everything from the musician but that gives the opportunity for spontaneous expression that is our true nature."
He concluded, "Whatever we give to music with love and dedication is repaid a thousand times over back to us in ways that defy categorization. To be a musician is one of the greatest privileges."
The commencement ceremony also celebrated the Valencia campus' fifth year, during which time, the campus has hosted more than 1,500 students from 71 nations and granted $4 million in scholarships to graduate students.
"This campus was a dream I began working on with a lot of other people back in 2006," Brown said before adding that he now feels as though he has "awakened in the middle of my dream and it has come true."
Over the course of this past academic year, Berklee's Valencia campus welcomed students to a number of special events, including the fourth edition of TEDxBerkleeValencia.
María Martínez Iturriaga, executive director of Berklee's Valencia campus, welcomed the new graduates to the alumni community.
"We're looking forward to what the next five years will bring, and are truly excited to continue to see our alumni body grow and become the next generation of leaders in the music industry," Iturriaga said.