How Rasika Shekar's Immersion in Ancient Music Led to Modern-Day Success
May 4, 2021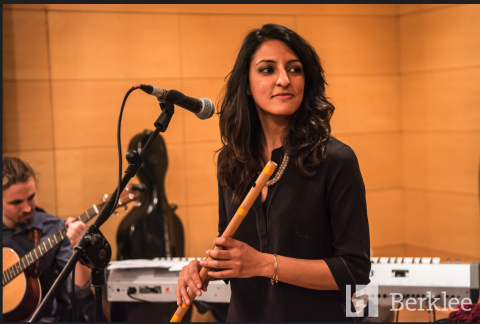 Growing up between Dubai and the U.S., flautist and singer Rasika Shekar M.M. '17 learned Carnatic music, an ancient form of South Indian classical music, from her aunt, a Carnatic vocalist. Later, while pursuing a degree in chemical engineering at Rutgers University, Shekar, who plays the bansuri—an Indian bamboo flute—started playing in a band and discovered jazz, developing a passion for live performance. 
"In my last year at university, I was performing around the area and a person who is now a very good friend discovered me and offered me the chance to be the opening act for one of the legendary artists from Pakistan, Ghulam Ali Khan," Shekar said. "In my second year touring [with Khan], he asked me to sing with him, which was a monumental opportunity." 
Before enrolling at Berklee Valencia, Shekar traveled to India to advance her studies of Carnatic and Hindustani music. There, she met the trio Shankar-Ehsaan-Loy, stars of Bollywood's music industry, who invited her to sing in one of their films after hearing her perform. "Shankar Mahadevan, one of the members, was very impressed, and proposed that I tour with them around the world as their lead vocalist," she said.
Shekar, however, felt that she needed to expand her musical vocabulary, so she enrolled in the Contemporary Performance (Production Concentration) program. Between the program's hybrid setup, the ability to finish it in one year, and the added perk of living in Spain, the program was a perfect fit. "I was trying to find my voice, and Berklee Valencia helped me unlock [it]," she said. 
Shekar's musical growth is evident in her performance with jazz legend John McLaughlin of John Coltrane's arrangement of "My Favorite Things'' at Berklee Valencia's commencement concert in 2017.
In Valencia, Shekar added a new palette of global sounds to her Carnatic- and Hindustani-inspired music, which, she said, has helped her see the role of the bansuri in a new light: "After I graduated from Berklee, I realized the potential and versatility it had." 
Perhaps the most rewarding aspect of Shekar's time in Valencia was being part of a vibrant global campus, surrounded by a diverse and talented community of musicians. "Your classmates are musicians from all over the world, so you have the opportunity to collaborate with them, to be a part of their journey, and for them to be part of yours," she said. "It opens up your mind very quickly."