Gilberto Gil, Grammy-Winning Artist and Political Activist, Receives Honorary Doctorate from Berklee Valencia
November 3, 2023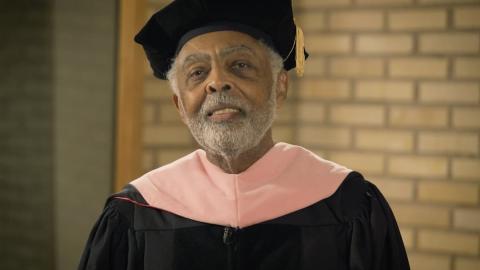 Berklee Valencia Executive Director María M. Iturriaga presented an honorary Doctor of Music degree to Brazilian multi-instrumentalist, singer, and songwriter Gilberto Gil yesterday during the virtual commencement ceremony of Berklee's campus in Valencia, Spain. 
In advance of the ceremony, Berklee Valencia's virtual commencement concert, which was streamed on the campus's YouTube channel on Saturday, July 5, featured graduate students and faculty paying tribute to Gil, who joined them for a prerecorded selection of his songs. Pieces performed included "Palco," "Refazenda," and "Eu Vim Da Bahia."
One of the leading names in Brazilian music, Gil's career has spanned more than six decades. He has won Grammy Awards for Best World Music Album (1998's Quanta Live) and Best Contemporary World Music Album (2005's Eletracústico) as well as several Latin Grammys, including three for Best Brazilian Roots/Regional Album (2001, 2002, and 2010) and one in 2010 for Best Brazilian Popular Music Album. 
In Gil's remarks during the ceremony, the legendary artist celebrated the gift of music and encouraged the graduates to use it as a tool to connect with others. "After more than 60 years of music, I have the feeling that it is worth dedicating a life to music," he said. "Now that you have music with you, life has given you this present—bring it to the public to get to other individuals, to other communities. My support to your musical career."
In closing, Gil thanked Berklee for the recognition: "It's an honor, it's a pleasure, it's a privilege to be part of this incredible world of Berklee. The professors, the musicians, the students, all of you—my many thanks, my gratitude, my honor. Thank you."
One of the leaders of Brazil's tropicália movement of the late 1960s, Gil became a prominent spokesman for the Black Consciousness Movement in Brazil in the '70s. In 2003 he was appointed Minister of Culture, creating new policies and programs and expanding Brazil's presence at forums and conferences around the world. 
In her address, Iturriaga praised the graduate students for their adaptation, flexibility, and collective responsibility this year. "Despite all the uncertainties, you chose to follow your passion and embark on a journey ready to row towards a better future," she said. "Let us not forget the role that music and creativity have played in this episode of our human existence. Music has no doubt been the ultimate travel companion. Music has brought us together and lifted our souls. So know that you have chosen the best career to bring great good to humanity."  
Berklee President Erica Muhl encouraged the graduates to change the world through music. "Music and the other arts bring people together; they remind us what is truly important and teach us through good times and bad times that as a society we rise and fall together," said Muhl. "Stay true to this and have the courage to create the art you are meant to create even when others doubt you."
At the commencement ceremony, 116 graduates and 44 returning students (from the classes of 2021 and 2020, respectively) from 33 countries received master's degrees in music production, technology, and innovation; scoring for film, television, and video games; contemporary performance (production concentration); and global entertainment and music business.
Berklee's honorary doctorate recipients are recognized for their achievements and influence in music, and for their enduring contributions to American and international culture. Past recipients include Duke Ellington (the first, in 1971), Aretha Franklin, Dizzy Gillespie, Quincy Jones, Smokey Robinson, Steven Tyler, Loretta Lynn, Juan Luis Guerra, Annie Lennox, Paco de Lucia, Carole King, Willie Nelson, George Clinton, Rita Moreno, Lionel Richie, A. R. Rahman, Justin Timberlake, Missy Elliott, Céline Dion, Donald Harrison, the Neptunes. 
Berklee Valencia has previously awarded honorary doctorates to Eddie Gómez (2013), John McLaughlin (2017), Al Di Meola (2018), Imogen Heap (2019), and Lila Downs (2020).