Gary Willis: Life Lessons from a Bass Legend
December 1, 2017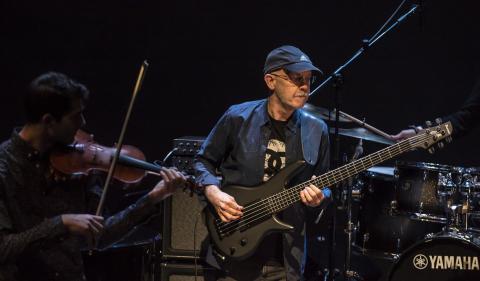 In 1979, when he started his composition and improvisation undergraduate course at the University of North Texas College of Music, Willis owned a Les Paul Deluxe guitar and a Fender Precision bass with which he played in several bands. So when the bank said no to his $500 loan request he knew he had to sell one of his two precious instruments, and the choice seemed clear: "No matter how well I played the guitar, if the rhythm section wasn't happening it wasn't a good experience. However, the same bands where I played bass, it felt like it should. Those instincts helped with the decision," he recalls.
Willis has come a long way since. The 1993 book Bass Lessons with the Greats talks about his "unique approach to improvisation," something that he says is fueled by "trusting and making your imagination a priority when you react and develop ideas as you improvise."
Willis, who at the age of 4 wanted to stay up beyond bedtime to listen to the closing theme of the TV show The Rebel has released four albums as a solo artist, three as part of a trio, and 10 with Scott Henderson as a member of Tribal Tech. "It's not a whole lot different to play solo or as part of a band. In Tribal Tech, the composer of each song became the band leader for those songs, so I became used to taking responsibility for the decisions that made my half of the work," says Willis.
His musical style gravitates toward jazz, sometimes fused with other genres like funk. "Initially, I was drawn to instrumental music since it didn't require such a strict interpretation defined by the lyrics, so I could identify with it easier. From there, it was just learning how to express myself musically and also creating compositions and environments that pushed that expression," he says. From his touring times, he highlights the ease of travel in decades past. "In the 90s, when we toured in Europe we would show up at the airport in Los Angeles with something like 20 musical instrument flight cases for four people, plus our luggage, and often they wouldn't charge us anything," Willis remembers.
In 1999, Ibanez Guitars introduced the Gary Willis Signature Bass. "I've been very fortunate in my relationship with Ibanez as we were able to innovate some things on that instrument that have become standard throughout the industry," he says. Over the years, they've continually made improvements to the instrument, something that inspires Willis to make music worthy of the bass named after him.
His last solo album was Larger than Life, released in 2015, and he is now focusing on Groove a Day, a mobile app developed with Gergo Borlai and Jeppe Rasmussen that offers musicians the possibility of playing a different rhythm section every day, following Willis, Borlai, and other artists' tutorials.
Willis is the author of four books: 101 Bass Tips: Stuff All the Pros Know and Use, Ultimate Ear Training for Guitar and Bass, Fingerboard Harmony for Bass, and The Gary Willis Collection. He's also had a prolific teaching career, which started in 1982 when he became a course leader at the Musicians Institute in Los Angeles, California. "In some ways, I was lucky to never have an electric bass teacher as it forced me to discover very direct approaches to solving problems. I enjoy sharing these discovery processes," he says about his role as an instructor. In 2004, he moved to Barcelona, Spain, where he taught composition, arranging, improvisation, and bass at the Escola Superior de Música de Catalunya.
From Barcelona, he moved to Berklee's campus in Valencia. "Once Steve Bailey came on board as head of the Bass Department and knew that I was in Barcelona, he encouraged me to visit. Brian Cole, the dean at that time, also helped me make my decision", he recalls. Willis now teaches courses in the Master of Music in Contemporary Performance (Production Concentration), Berklee Study Abroad, and First Year Abroad programs, and he says his expectations on what students achieve by the end of the academic year depends on their curiosity. "Every bass student is unique. The more questions they have, the more we can discover about the process of learning and improving," says Willis.
In his opinion, technology and the role of musicians are changing so rapidly that mastering a single set of skills is no longer enough to prepare students for a constantly evolving future. "The best we can do is encourage their appetite for learning. That's something they can take with them and [it] will allow them to adapt to what will be a different landscape any of us can imagine," he says.
To conclude, he shares a tip that worked for him to make his career a successful one. "I can say that without an instrument teacher, I had to be creative to learn. So I think if you can equate those two, learning and creativity, you will always find your way."