Berklee Valencia: Ten Years of Milestones, Music, and Celebration
September 9, 2022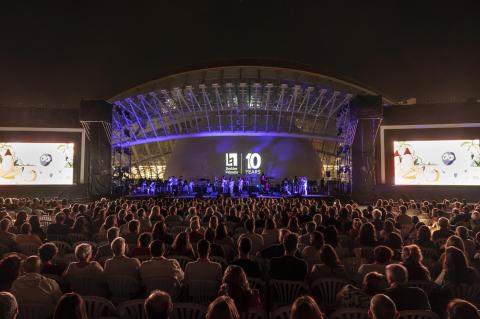 As Berklee's campus in Spain turns 10, take a look back at how it became a global hub for creativity and innovation.
In the spring of 2012, Berklee launched its first global studies program in Valencia, Spain, at the vibrant City of Arts and Sciences. Now known as Berklee Study Abroad, this program opened the doors to Boston undergraduates seeking a semester away from the main campus to expand their horizons, introducing Berklee Valencia to the world. That fall, graduate students came to Valencia for the college's first academic offerings: global entertainment and music business; contemporary performance (production concentration); and scoring for film, television, and video games.
The campus grew over its first year, with Eddie Gómez receiving the first Berklee honorary doctorate in Valencia during the summer of 2013. That summer also marked the campus's first summer performance program, a three-week course designed for musicians of all levels. The fall of 2013 saw expanded graduate offerings with the Master of Music in music production, technology, and innovation.
In 2017, when Berklee Valencia celebrated its fifth anniversary, the campus hosted its first annual Global Career Summit, a monumental event that convenes experts and thought leaders of a variety of professional backgrounds to participate in keynotes, panels, workshops, and mentoring sessions to guide students through the multifaceted global music industry
Following the merger between the college and Boston Conservatory, the Valencia campus launched its first opera program, the Boston Conservatory Opera Intensive at Valencia, during the summer of 2017. That fall, first-year students in Boston were given the opportunity to begin their Berklee experience abroad in an intimate setting within one of the most important musical regions in Spain.
The campus's five-year anniversary concluded with Berklee Valencia receiving an award from Fundación Excelentia, recognizing Berklee's contribution to music education and its role as one the world's leading institutions of contemporary music.

017 would not be the last time Berklee Valencia would be recognized for its excellence. In the summer of 2019, the campus received the Corporate Social Responsibility Award at the 16th Consejo Social awards of the Universitat Politécnica de Valencia (UPV) for Berklee's many projects that use music to benefit people from underserved communities or those at risk of social exclusion. In the fall of the same year, Berklee Valencia announced the Outstanding Women Scholarship program, which aims to empower women to pursue a professional career in music and enhance the presence of women in the industry. The award included financial support and a mentorship session with a renowned woman working in each of the fields covered by Berklee's programs.
During the summer of 2020, Berklee Valencia and the City of Arts and Sciences signed a renovation agreement, allowing the campus to stay for an additional 40 years in its facilities. The agreement also included an annual scholarship for Valencian students who have been admitted in one of the master's degree programs.
Over the last decade, Berklee Valencia has welcomed more than 4,000 students from 85 countries and has awarded over $10 million in scholarships. Through the years, the college has developed a multicultural team and creative ecosystem, building on the strengths and unique characteristics of this region. Thanks to multiple partnerships and collaborations, Berklee has become an active contributor to the cultural, educational, and social fabric of Valencia. Students and faculty have performed more than 1,000 concerts and have engaged in community outreach and social projects, leveraging the power of music to ignite social change and build a better future. More than 900 guest speakers and artists have shared their expertise with members of the Berklee Valencia community throughout the past 10 years. A diverse array of some of music's most influential talents—Imogen Heap, John McLaughlin, Lila Downs, Gilberto Gil, Al Di Meola, and, most recently, Alberto Igelsias—have been honored at Berklee Valencia's annual commencement ceremony since the 2013 presentation to Gómez.
Berklee Valencia alumni are actively involved in the global music industry, with 92 percent currently working in the worlds of music and live performance, including at major companies such as Ableton, Amazon, Apple Music, Avalanche Studios Group, Spotify, Warner Music Group, and Sony Music, among others. In 2021, Kyle Pyke M.M. '14 received a Grammy nomination in the category of Best Engineered Album, Classical, for his work on Fields by Devonté Hynes and Third Coast Percussion; and Billy Cumella M.M. '15 won a Grammy for his work on Lady Gaga and Tony Bennett's Love for Sale in the category of Best Engineered Album, Non-Classical, in 2015.
During the past two years, Andrew Skinner M.M. '20 and Calvin McCormack M.M. '21 received Fulbright Awards to work and study in Argentina and India, respectively. Abhinav Agrawal M.A. '16 was named to the Forbes 30 Under 30 Asia list for his work as executive director and founder of the Anahad Foundation, an NGO that functions as a record label, producing and releasing songs by Indian folk artists and directing all royalties back to the musicians. Alumni can be seen and heard across a variety of global media, from Beyoncé's Lemonade (Ricky Lucchese M.M. '13, singer and trombonist) to the film Astronaut (Virginia Kilbertus M.M. '16, composer) to the Super Bowl (Matt McIntyre M.M. '17, XR graphics artist).
The future for Berklee Valencia, as well as its students, faculty, alumni, and the surrounding community, is bright. The innovative spirit of 10 years ago still lives on the campus, where artists can thrive in a supportive, creative environment that will lead them to a successful future in the performing arts world.
"To be the first international campus that Berklee has launched outside of Boston and the U.S. has been a fascinating and enriching experience for the entire Berklee community," said María Martínez Iturriaga, senior vice president for international learning environments and executive director of Berklee Valencia. "It has contributed to broadening our horizons and becoming a more globally minded institution. Our students now have access to a more international network and career opportunities. Berklee Valencia still has a lot of potential in terms of leveraging its geographic presence in Europe and the Mediterranean. We aspire to serve as a bridge between these cultures and the rest of the world, as well as continuing being a catalyst for innovation and creativity."