Berklee Valencia Presents the Seventh Edition of the Global Career Summit this January
November 18, 2022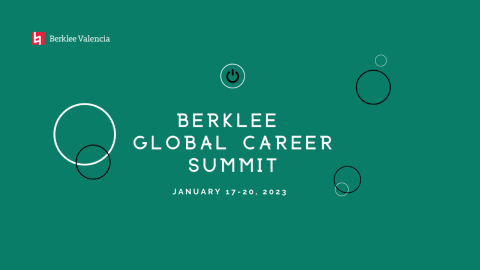 On January 17–20, 2023, Berklee Valencia will present the seventh edition of the Berklee Global Career Summit: a four-day bootcamp that focuses on professional development and career paths through a series of keynotes, panels, workshops, and individual mentoring sessions. 
This year, the annual conference, which was recently highlighted by Billboard in an article about the top music business schools, will open its doors to non-Berklee Valencia students.
Visiting experts and thought leaders from various professional backgrounds will guide attendees through today's multifaceted global music industry. Sessions will focus on providing practical knowledge that will support the participants' professional development, mainly in the areas of business, film scoring, production, and songwriting. 
This year's confirmed speakers include renowned industry professionals such as music producer, audio engineer, and singer-songwriter Ebonie Smith; award-winning musician, composer, and producer Patrice Rushen; Live Nation Entertainment's head of marketing Joe Pérez-Orive; performer, session musician, and educator Taku Hirano; ColorsxStudios CEO Jonas Weber; and Berklee Valencia alumnae Ho Ling Tang and music producer, engineer, and data sonification researcher Kelly Snook, among many others. 
The program—filled with activities such as keynotes and talks with more than 20 industry experts and more than 10 hands-on career workshops at the basic, advanced, and expert levels—offers great networking opportunities with speakers and Berklee Valencia's students, staff, and faculty; as well as the possibility to apply for an individual mentoring session with an industry expert.
Current Valencia students are directly enrolled in the Global Career Summit. Tickets for other Berklee students, alumni, and external attendees are available at special prices on the event's website.