Berklee Valencia and Altafonte Come Together with "The Radiography of the Artist"
March 9, 2023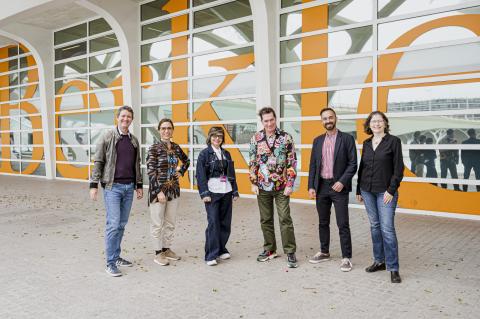 Thanks to the initiative, students in the global entertainment and music business master's degree program who are attending the data analytics class will take part in a hands-on experience developing creative and innovative solutions for Altafonte's artists strategy, working with their teams to leverage their platform and reach an international audience.
The project is centered around collecting, curating, and analyzing music usage and royalties data about nine artists signed at Altafonte which include Lorenzo Baglioni (Italy), Diego Lorenzini (Chile), Nino Augustine (United States), Merenglass (Mexico), Sila Lua (Spain), Ceci Juno (Ecuador), Jorge Luis Chacín (Venezuela), Free Stayla (Colombia), and Milena Warthon (Peru). 
As part of the collaboration, students in the data analytics class will have the opportunity to present their reports to the artists (or their management teams) and receive detailed questions and feedback on their work. 
"Both as a Berklee alumnus and Altafonte team member, I was able to identify the key data insights that are more relevant to artists. I think this project is a clear win-win where students get to work on real projects with artists to expand their knowledge of their audiences", said Alejandro Hernández M.A. '21, director international at Altafonte. 
The value and availability of data has become one of the defining characteristics of 21st-century business. In today's industry, data is transforming businesses, social interactions, and how music is transformed and artists are marketed.
Berklee Valencia's master in global entertainment and music business was recently recognized by Billboard magazine as one of the best music business schools in 2022, ranking among the top five universities outside the United States. The prestigious magazine highlighted the work that students do within the Data Analytics course where they learn how to acquire, manipulate, analyze, and explain data through real-world examples, getting a unique insight into how analytics significantly improve management decisions, firm strategies, and artist success and being able to implement this knowledge in their upcoming careers. 
About Altafonte 
Altafonte is a global music and technology company founded in Madrid in 2011. Altafonte partners with artists and labels to make their music available on over 150 streaming platforms and digital stores worldwide. It's one of the fastest growing independent music companies in the world and a leader in Latin America, with 16 offices in 13 countries. As part of its services, Altafonte offers digital and physical distribution, global marketing and promotion, royalty payments, publishing and neighboring rights, synchronizations, and video network. 
In 2022 Altafonte was certified as a BCorp company, making it one of the first music companies to earn the certificate. This certification shows the highest standards on cultural diversity, inclusivity, collaboration, and ethics: being conscious of the impact of the company's actions in the ecosystem and offering real solutions for responsible, sustainable, and fair growth.