Berklee Valencia Alumnus Receives Fulbright Award to Sweden
May 19, 2023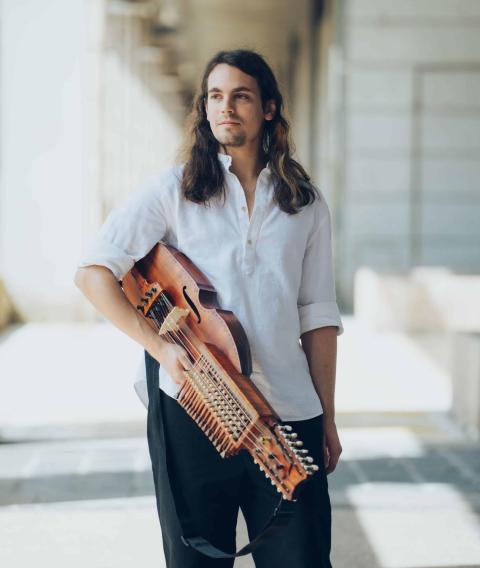 This is the third consecutive year that a Berklee Valencia alumni is recognized with a Fulbright Award.
Berklee Valencia graduate Michael Lucarelli M.M. '20 has received a Fulbright U.S. Student Program Open Study/Research Award from the U.S. Department of State and the Fulbright Foreign Scholarship Board, and recent Berklee College of Music graduate Michael Doughty B.M. '23 has received a Fulbright/Liszt Ferenc Academy of Music Award. Last year, Calvin McCormack M.M. '21 was the recipient of a Fulbright-Nehru Award; in 2021, Devina Boughton B.M. '21 and Andrew Skinner M.M. '20 received Fulbright U.S. Student Program Open Study/Research Awards. 
As Fulbright participants, Lucarelli and Doughty will study, perform, and conduct research abroad for the 2023–2024 academic year. Recipients of Fulbright awards are selected in an open, merit-based competition that considers leadership potential, academic achievement, and record of service. As Fulbright alumni, their careers are enriched by joining a network of thousands of esteemed honorees , many of whom are leaders in their fields. Fulbright alumni include 62 Nobel Prize recipients, 78 MacArthur Foundation Fellows, 89 Pulitzer Prize winners, and 41 current or former heads of state or government. 
Lucarelli, a native of Bethel Park, Pennsylvania, currently living in Santiago de Compostela, Spain, will study the role of the nyckelharpa in Swedish folk music through an affiliation with the Royal College of Music in Stockholm. From its earliest known depictions in the 14th century until now, the nyckelharpa has lived a peculiar life within Sweden's folk music traditions. While it shares the use of the bow, its use of keys and sympathetic strings make it vastly different from other bowed instruments. He will receive formal instruction on the nyckelharpa from Väsen nyckelharpist, Olov Johansson, and take classes that will support his understanding of Swedish folk music.
Through collaboration with faculty and students of the university, in addition to musicians in the community, Lucarelli's goal is to promote an exchange of musical and cultural experiences while expanding his artistry as an American musician and educator by engaging with Swedish heritage and culture.
Doughty, a native of North Andover, Massachusetts, will be studying the Hungarian free jazz movement through the Liszt Ferenc Academy of Music. His research will aim to elucidate the inner structure of Hungarian improvised music through an analysis of the improvisational methods of contemporary Hungarian jazz musicians György Szabados, Mihály Dresch, and Kálmán Oláh, and their relation to folk melodic forms. Doughty will study traditional Hungarian melody through interviews with faculty and his own transcription work. He will then use transcription and analysis of music from key figures in Hungarian jazz, which will also include a series of interviews exploring methods of improvisation and the broader concept of what it means to improvise for Hungarian musicians. 
Doughty plans to create a coherent document based on the synthesis of his analytical research and relevant information from interviews, analyzed musical excerpts, and corresponding interview questions. His ultimate goal is to promote Hungary's unique approach to innovation in modern music in the hopes that this will open up an opportunity in modern improvised music to innovate through tradition, rather than against it.
"I am so proud of both Michael Doughty and Michael Lucarelli for receiving Fulbright Awards," said Roya Hu, associate dean of faculty development and Fulbright advisor for Berklee. "It is wonderful to see Berklee graduates dedicating their creativity and resources to such important projects, and I am thrilled the Fulbright program has continued to recognize our alumni for their tremendous scholarship. I wish them the best of luck as they continue to research, create, and learn in the upcoming year." 
In 2022, Berklee was recognized as a top producer of Fulbright U.S. students by the U.S. Department of State's Bureau of Educational and Cultural Affairs (ECA). The nation's top-producing Fulbright institutions are highlighted in the Chronicle of Higher Education annually. The Fulbright application is administered at Berklee through its designated Fulbright program advisor Hu. Inquiries can be sent to fulbright@berklee.edu.