Bassist Daniel de Boer Embraces a 'Yes' Mindset to Take Full Advantage of Berklee Valencia
September 6, 2022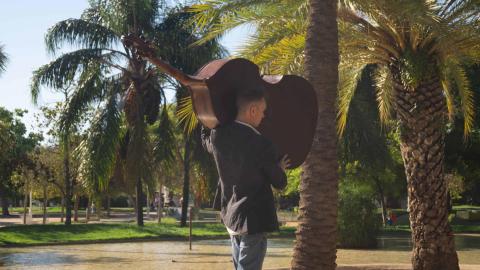 Indeed, De Boer said "yes" to numerous chances to perform during his time in the program as well as after its completion. He played at several concerts on campus with his friends and classmates, including the benefit concert Berklee a Les Arts: Por el Mar in October 2021 and the INOCON Music and Tech Conference last April. He also played bass alongside singer and classmate Ajda Stina Turek M.M. '22 during the 2022 commencement concert, La Nit de Berklee, performing an arrangement of the song "Lágrima" by Amália Rodrigues. 
 As an international student, de Boer also made the most of his time outside of classes to travel the country with his classmates and visit many cities, including Alicante and Cala. During one memorable trip, de Boer and a few of his classmates performed at the eco-retreat Kausay Community in Valencia's Sierra de Enguera mountain range in celebration of its olive harvest. In addition, he played gigs at Cantagua Hostel, Radio City, and the Mindscape: Multi-Arts Festival. 
De Boer encourages master's program students who want to accelerate their careers to adopt a similar attitude because being open to opportunities can pave the way for finding work within the music industry. "Berklee really allows you to work on your dreams, which is a beautiful thing," he says.
Transforming into a Singer-Songwriter
De Boer began his time at Berklee Valencia with aspirations of becoming a singer-songwriter. He had composed several songs for his upcoming album, Out of Shadows, before enrolling, but he wanted to improve on them using the production and composition skills he learned in his classes. 
Much of the indispensable performance, composition, and production expertise de Boer gained came from his private lessons with legendary bassist Gary Willis, an instructor in the contemporary performance program. 
 "[Willis] is a real hero of the bass, so it was quite surreal to have lessons with him," de Boer says. "He talked so much about improvisation [and] not just about bass playing but general musicianship."
Along with Willis's tutelage, the guidance and motivation he received from all his professors, including contemporary performance program directors Magdalini Giannikou and Olga Román, helped de Boer make the leap from bass player to singer-songwriter. Willis and Giannikou also assisted on the album's arrangement and production ideas. 
Featuring de Boer on bass and lead vocals, Out of Shadows includes nine world music songs created in collaboration with musicians from more than 16 countries, nine of whom are Berklee Valencia graduates; each plays a different instrument from around the world, such as the oud, diatonic accordion, and lyra.
The album is produced by de Boer's longtime friend Shakthi Prasad M.M. '20, an alumnus of the Master of Music in music production, technology, and innovation program. Together they worked to infuse a mix of world music genres that de Boer learned during his studies at Codarts Rotterdam University of the Arts and Berklee Valencia.
While finalizing the album, de Boer also received feedback and production and mixing assistance from Nic Hard, Grammy-winning producer, mixer, and engineer of the jazz-funk-fusion ensemble Snarky Puppy. 
 As its release date in early October draws closer, de Boer and Prasad are raising money to fund the album and a short tour of Europe and the U.S. They are also preparing to release a new music video for the album's first single, "Fly Away," which was directed by Jep Jorba and filmed in the streets of Cabañal.
"I see the project really growing," de Boer says. "It's already grown from zero to so much in one year."