Alum's XR Graphics Featured in Super Bowl LVI
March 23, 2022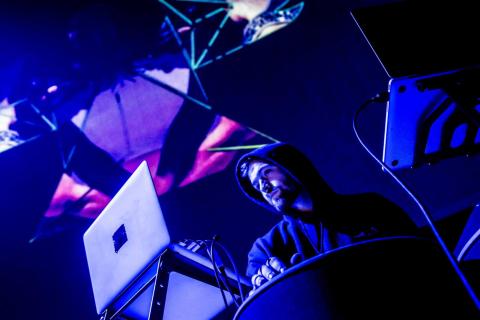 But that's what happened when McIntyre M.M. '17 was hired to create on-air and in-stadium extended reality (XR) graphics for the game last month in Inglewood, California. "It felt like I was going to the Super Bowl of my career," said McIntyre, whose pregame visuals aired live on NBC and filled SoFi Stadium's jumbotron and concession stand screens. "It wasn't lost on me how cool it was."
Two of his animations - a title sequence of the Super Bowl logo and trophy popping out of the lake in front of the stadium and a jumbotron graphic of real-time player stats dropping down kicked off the game. Another animation he created, showcasing the logos of Super Bowl sponsors, was later featured. 
To meet these challenges, McIntyre had to apply the skills he learned at Berklee Valencia, including his expertise using the animation software Unreal Engine, along with his knowledge from playing high school football, to produce these graphics during what he calls a "month-and-a-half-long sprint." 
The Sprint to the End Zone
McIntyre had always aspired to produce large-scale events, even before he decided to enroll at Berklee Valencia. As an undergraduate student at the University of Michigan, he gained experience in the field by working with local production companies.
"I enjoyed going to concerts and festivals when I was in college, and I decided I didn't want to just consume it; I wanted to help produce it and put it on," he said.
McIntyre's interest in live events led him to cofound Between the Dimensions (BTD) Studios in 2013 with two friends. The studio has evolved in recent years to include VJing and projection-mapping.
While searching for graduate programs in the event production field, he met Ben Cantil, a former Berklee Valencia faculty member, who introduced McIntyre to the music production, technology, and innovation program.
It was the perfect fit. In Valencia, McIntyre customized his program to include electives that focused on skills he would need on the job, many of which he practiced by collaborating with other students. He took music production classes and created music that blended the global sounds he heard around campus, including flamenco, Indian solfege, and South American drumming. He also met three classmates, Dave Abrams, Johnny Snelgrove, and Tejaswi Gorti, who'd help him transform BTD from a VJing brand into a creative studio.
McIntyre's Culminating Experience (CE) at Berklee Valencia, Dimorphic, was a major highlight of his young career. Produced with BTD Studios and Valencia student AJ Ramirez in collaboration with the Science Museum of Valencia, the project premiered at the Hemispheric IMAX theater. The multimedia piece, billed as a "exploration of the dimorphism within the human mind," was an ideal showcase for McIntyre's video production and animation skills. 
"If you're a Berklee student, definitely go all in on your CE because it's your professional trial," McIntyre said.
In addition to his freelance work like the Super Bowl gig, McIntyre is keeping busy as an online course instructor at Dadageek, collaborating with a friend to build MIDI 2.0 controllers for electronic music instruments, and creating new music and videos.
While working on these projects, McIntyre's time at Berklee Valencia is never far from his mind. He's always felt welcomed and included there, especially by the International Career Center staff, and he gives back to its academic community as an ambassador and mentor to prospective and current students, even while based in Texas on the other side of the world.
"It's really nice to have that personal alumni connection with the school," he said, "and to be welcomed and celebrated by the community."