Alicia Morote M.M. '16 Contributes to Oscar-Nominated Film Parallel Mothers
March 24, 2022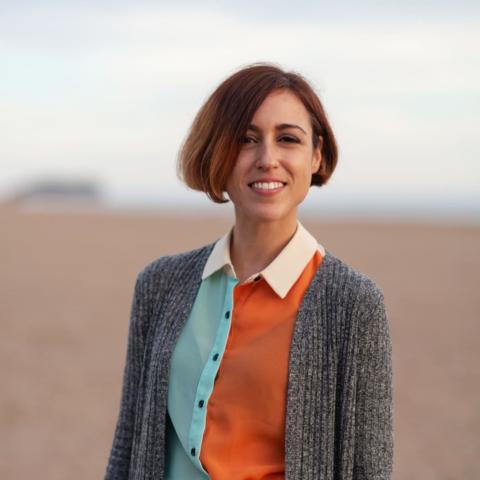 The Spanish drama film Parallel Mothers is headed to the Oscars this weekend, with its soundtrack, composed by Alberto Iglesias, receiving a nomination for Best Original Score. Alicia Morote M.M. '16, a graduate of Berklee Valencia's scoring for film, television, and video games program, served as one of Iglesias's assistants and managed the film's score preparation.
"It's something a bit surreal," said Morote, who also worked with Iglesias's team on the 2019 film Pain and Glory, which won the Cannes Soundtrack Award and numerous Goya Awards. "It's not something new to get a nomination, but this one is the biggest one." 
Morote described the experience of preparing the film's score as intense, but because of the skills she honed in Valencia, such as her ability to stay organized, work fast, and pay attention to detail, she was able to keep up with the long workdays and frequent changes to the film's story and scenes. 
"[Parallel Mothers] is so rich. It has so many colors and different styles altogether, so it was very difficult to do this score," Morote said.
The main purpose of the score, she said, was to give power to the images and add more density to the film, blending the music with the story to create a more profound theme.
Iglesias's score for Parallel Mothers has already won a Feroz Award and a Hollywood Music in Media Award, and been nominated for Golden Globes Awards and a Cinema Writers Circle Award in Spain.
While preparing the score for Parallel Mothers, Morote also worked as an orchestrator on the Disney Channel's animated special Descendants: The Royal Wedding, released last year.
Making the Right Connections
Morote sees her experience at Berklee Valencia not just as a means for study, but also as a gateway into Spain's film industry.
As a student and a graduate fellow, she gained numerous professional contacts, including her professors, classmates, students she assisted, and especially Lucio Godoy, her program director, whom she sees as a mentor. "He has recommended me for many projects," she said. "He was my teacher at Berklee, but he always has something interesting to say about the right things to do in the industry, so he's a great advisor." 
Through her connections at Berklee Valencia, Morote has built an impressive CV, collaborating with many film composers, including Iglesias, with whom she has worked with for seven years. She encourages current students not to waste time during their one year on campus. "It's not only an experience to have fun and go out," Morote said, "but it's important to focus on and take advantage of all Berklee gives you there."
As she maintains these links to Spain's film industry, Morote continues her work scoring for TV and video games. Her most challenging work, however, continues to be the musical she composed with her sisters, Mercedes and Blanca, and her friend María Gonzalez, called Rainroad. 
Morote and her fellow creators wrote the music and script and cast 25 actors and actresses for the production, a dramatic romance set in England during the Industrial Revolution. They also led rehearsals and guided the sound engineering and other technical aspects. 
The greatest challenge, she said, has been producing the musical at various locations in Spain. But Morote remains determined to bring Rainroad, which was performed at Rome Theater in 2017 and Villa de Molina Theater in 2018, to other parts of the country. "The musical industry is not very big here, but we will see," Morote said.
 The 94th Academy Awards will air on Movistar Plus+ this Sunday, March 27, at 12:00 a.m. CET and on ABC at 8:00 p.m. ET/5:00 p.m. PT.