Alberto Iglesias, 11-Time Goya Winner and Four-Time Oscar Nominee, Receives Honorary Degree at Berklee Valencia
July 5, 2022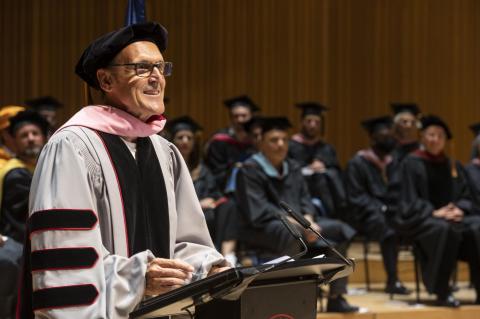 Berklee President Erica Muhl presented an honorary Doctor of Music degree to acclaimed Spanish composer Alberto Iglesias on July 4 at the commencement ceremony for the master's degree programs at Berklee's campus in Valencia, Spain. In advance of the ceremony, graduate students prepared and performed a medley of some of Iglesias's most renowned compositions at the commencement concert, held at l'Hemisfèric on Saturday, July 2.
An 11-time Goya winner and four-time Oscar nominee, Iglesias is one of Spain's most revered international composers. With a musical background that includes studies in piano, composition, counterpoint, and electronic music, he is recognized globally for his collaborations with some of the most prestigious Spanish film directors, including Pedro Almódovar, Julio Medem, Iciar Bollaín, Bigas Luna, and Isabel Coixet. He has also worked with international film directors Oliver Stone, Fernando Meirelles, and Marc Forster, among many others.
"It's a pleasure for me to be here sharing this very important day in your life and in my life, too," said Iglesias to the graduating class. "We all represent a commitment with the art of music, we represent a craft that, in a combination of sounds, looks for a reflection of people's lives and ideas of the world. It's not an easy craft but we know that it is the most thrilling. The maximum beauty of music is going to need your capabilities, to coordinate the learnt with the unknown, the written with the improvised, the light with the dark. You are the arrow that will change the world, I believe so." 
Throughout a career that has spanned more than 40 years, Iglesias has garnered numerous  recognitions for his work. In addition to 11 Goya Awards, he has won the Best Soundtrack Award at the Cannes Film Festival, Best Composer at the European Film Awards, and Soundtrack Composer of the Year at the World Soundtrack Awards in 2005 and 2012. In addition, Iglesias is a Golden Globe nominee for Best Original Score and a British Academy Film Award nominee for Best Original Music. The Spanish Ministry of Culture has recognized him twice for his outstanding contributions to the Spanish cinematographic scene. 
In presenting the honorary degree, President Muhl praised Iglesias for "his brilliant understanding of the natural synergy between visual and musical storytelling, and his masterful gift for narrative artistry." "He has influenced entire new generations of composers for whom story and the collaborative magic that happens when music binds with and fuels human artistic expression of all kinds is a singular goal," she added. 
At the commencement ceremony, 137 graduates from 42 countries received Master of Music degrees in music production, technology, and innovation; scoring for film, television, and video games; and contemporary performance (production concentration); and Master of Arts degrees in global entertainment and music business. Students who completed Berklee's post-master's program were also recognized at the ceremony. 
Berklee's honorary doctorate recipients are recognized for their achievements and influences in music, and for their enduring contributions to American and international culture. Past recipients include Duke Ellington (the first, in 1971), Aretha Franklin, Dizzy Gillespie, Quincy Jones, Smokey Robinson, Steven Tyler, Loretta Lynn, Juan Luis Guerra, Annie Lennox, Paco de Lucia, Carole King, Willie Nelson, George Clinton, Rita Moreno, Lionel Richie, A. R. Rahman, Justin Timberlake, and Missy Elliott. In the last five years the Valencia campus has awarded honorary doctorates to John McLaughlin, Al Di Meola, Imogen Heap, Lila Downs, and Gilberto Gil.