Updates from the Dean of Academic Affairs
Dear Berklee Valencia Family,
When I last wrote, I commented that autumn had yet to arrive in Valencia. However, the weather knew we turned back our clocks at the end of October, and with that change, the cooler weather finally came. We are now enjoying brisk mornings and evenings and warm sunny days.
As always, it has been a busy time at Berklee Valencia. The master's programs hosted a variety of events, including a celebration of the International Day of Flamenco by the Contemporary Performance (Production Concentration) program (CPPD), featuring guest artists Alicia Carrasco (voice), Jose Manuel Moreno (guitar), and faculty member Sergio Martinez (percussion). Global Entertainment and Music Business (GEMB) held a series of events as part of their Innovation Week. Music Production, Technology, and Innovation (MPTI) hosted producer Emilio Miler. Scoring for Film, Television, and Video Games (SFTV), students recorded pieces for brass quintet. In addition, a few students from CPPD and MPTI also traveled to Haarlem, Netherlands, to participate in a Songwriting Camp. 
Meanwhile, the undergraduate students participated in our annual Industry Day Trip to Madrid, a chance to visit relevant music companies that operate in the city. From labels to promoters, recording studios, and more, this was a unique chance to meet some leadership and staff and to learn about the ongoing day-to-day tasks that the different departments undertake. In the spring, we will offer a similar program in Barcelona. Lastly, undergraduate students also had their final Open Mic of the semester.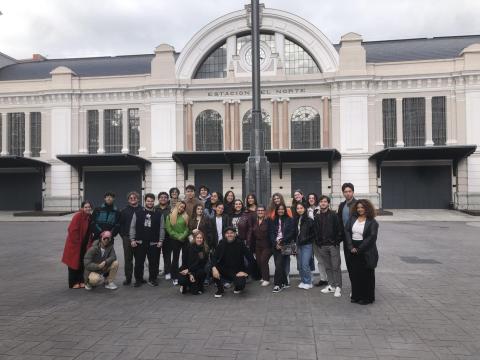 We also had some fun with a Pet a Pooch event featuring three of our staff member's pups: Cosmo, a young mutt recently adopted by Academic Affairs staff member Laura Blasco; Lana, a Schnoodle that belongs to Diana Prieto from Student Affairs, Diversity, and Inclusion; and Romulo, a French bulldog owned by Martina Naretto in our Academic Records and Services Office. It was a fantastic opportunity for students to relax, spend social time together, and bond with amazing and loving dogs.
While Thanksgiving is not celebrated in Spain, we were fortunate to have a community Friendsgiving dinner at the Hard Rock Cafe Valencia. Eighty faculty, staff, and students came together to celebrate our community and partake in a traditional Thanksgiving meal (including a vegetarian/vegan option). 
I look forward to giving you one more update before 2024!
October 2023
Dear Berklee Valencia family,
It doesn't feel like autumn yet in Valencia, where temperatures remain high and we have seen little rain in weeks. We aren't complaining though as it gave us incredible weather for our Lago de Conciertos series, which is held outside, beside the Museum of Sciences in the City of Arts and Sciences. We have had a variety of bands—composed of First Year Abroad, Study Abroad, and CPPD (Master of Music in contemporary performance and production concentration) students—perform in the series to hundreds of enthusiastic people each night. Our last show for the fall was on Friday, October 13, and we'll start back in April 2024.
In addition to our Lago concert series, we have had a variety of events and speakers on campus, including Sean Goulding and Simone Torres as part of the MPTI (Master of Music in music production, technology, and innovation) Innovation Series; the GEMB (Master of Arts in global entertainment and music business) program welcomed Ruth Koleva; and Susana Corbacho conducted a series of workshops on mental health. We organized sunset boat trips on the Mediterranean for students as well as a paella-making activity, specifically for the undergraduates.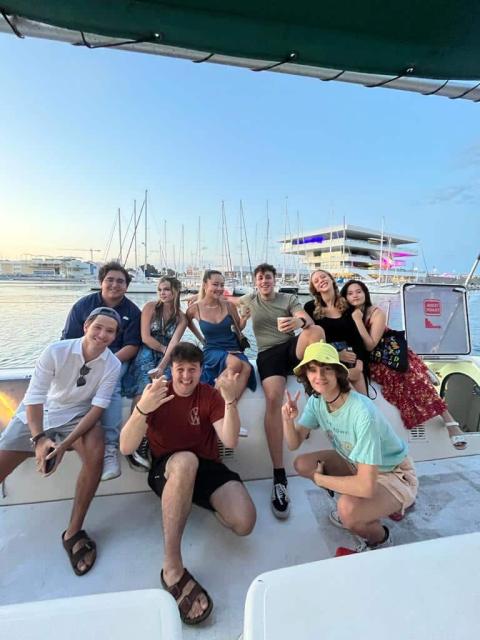 Our SFTV (Master of Music in Scoring for Film Television and Video Games) students took part in their first recording sessions with members of the Budapest Art Orchestra. And GEMB students went to Barcelona for the Future of Music Forum conference.
We also engaged our community in Berklee's Strategic Planning process, with a tabling event in which students, faculty, and staff could participate. And our enrollment team organized an open house for prospective students, with a series of workshops and information sessions. Finally, our first performance in the Berklee a les Arts series, La Mano Ganadora, an original work based on the opera Queen of Spades by Tchaikovsky, was held this month.
Our most exciting news is that, for the third consecutive year, our GEMB program was chosen by Billboard as one of the top music business programs for 2023. We are proud of this recognition and know that it will help our students when they graduate.
I look forward to sending you more updates soon.
September 2023
Dear Berklee Valencia family,
As we embark on a brand new academic year, I am thrilled to share some exciting updates with you. It brings immense joy to see fresh faces on our vibrant campus, and I am delighted to announce that we've welcomed 290 enthusiastic students this fall, comprising 140 in our esteemed graduate programs and 150 in our dynamic undergraduate programs. These students hail from a staggering 47 different countries, creating a wonderfully diverse and enriching environment. Notably, the United States and China have the largest representation among them.
Our academic journey began with an engaging week-long orientation program, tailored for both our undergraduate and graduate students. During this orientation, we covered a wide spectrum of essential topics, including valuable insights into living in Valencia, access to medical services, and an exploration of our equity policy. Additionally, we organized various social events, including delightful picnics for our graduate students and an exhilarating city-wide scavenger hunt for our undergraduates. Our opening convocation was truly memorable, featuring a captivating performance by the talented Berklee Valencia faculty and esteemed alumni, under the guidance of the renowned Professor Perico Sambeat. To wrap up the week in style, our Un Lago de Conciertos series commenced with phenomenal performances by three exceptional ensembles.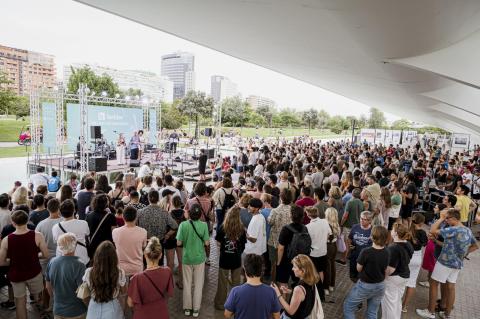 Our fall semester follows the success of our Summer Performance Program, which unfolded over the final two weeks of July. This intensive program saw 142 dedicated students actively participating in enriching musicianship classes, collaborative ensemble work, immersive studio recording experiences, and a diverse range of workshops, including the exploration of Flamenco music and songwriting. Notably, all our ensembles had the privilege to showcase their talents on our esteemed Lago stage, performing in front of appreciative audiences, comprising family members, local residents, and numerous tourists who flocked to the iconic City of Arts and Sciences, where our campus resides, during the summer season.
I would be remiss if I didn't mention the exciting expansion and renovation project that kicked off in August. Over the course of the next two years, we are set to augment our facilities by adding an impressive 10,000 square feet of usable space, marking a remarkable 25 percent increase in our infrastructure. This ambitious project encompasses several exciting components, including the construction of a second floor in our new annex building, the revitalization of our library, the establishment of a state-of-the-art ensemble room equipped with recording capabilities, the creation of a cutting-edge keyboard lab, the addition of more classrooms, and the provision of enhanced office space for our dedicated staff and faculty members. Furthermore, an exquisite event room is in the works. I eagerly anticipate keeping you informed about the progress of these remarkable developments.
In closing, I want to extend my best wishes to all our students for a successful and fulfilling semester ahead. I promise to keep you in the loop with regular updates throughout the year, so please stay tuned for more exciting news and achievements from Berklee Valencia.