From Dinosaur Bones to Emmy Nominations: Anže Rozman M.M. '14 Crafts Prehistoric Soundscapes with Hans Zimmer
September 7, 2023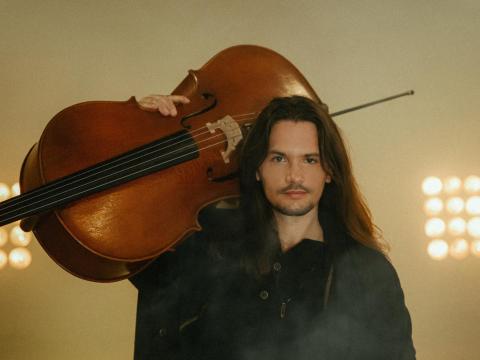 The Berklee Valencia alumnus has been nominated for an Emmy Award for his work on Apple TV+'s Prehistoric Planet, which he coscored alongside Berklee College of Music alumna Kara Talve B.M. '18 and legendary composer Hans Zimmer. The nomination is in the category of Outstanding Music Composition for a Documentary Series or Special (Original Dramatic Score) for the episode "Badlands."
"Outstanding" is undoubtedly the right word. A graduate of the Master of Music in scoring for film, television, and video games program program, Rozman took his composition to incredible new heights on the series, designing nine original instruments in his search for sonic perfection.
"We needed to transport the listeners 66 million years back in time," says Rozman. "That's where the custom instruments we made out of bones, fossils, and dinosaur replica fossils came into play."
The total scoring process took three years, with Rozman and Talve inventing new instruments—including the Raptor Violin, Hadro Cello, Triserachord, Petrified Wood Xylophone, and the Fat Rex—as they went along.
Rozman's inspiration came during a trip to Arizona in 2020. Unable to visit Europe due to the pandemic, he and Talve traveled to Arizona, where they visited the Moenkopi Dinosaur Tracks, Meteor Crater Natural Landmark, and Petrified Forest National Park.
"We stumbled upon a Native American trading post," says Rozman. "There was a room filled with bones, fossils, and meteorites, and also Native American instruments."
After buying a selection of bones and replica fossils from the market, Rozman and Talve began experimenting with the materials, attaching cello strings to the bones and using contact microphones to pick up the sound. 
Hours of work would follow as they attempted to create an entirely new sonic experience. Once satisfied with the outcome, they designed a series of prototypes. They enlisted Charles LaBrecque, a specialist instrument maker who had worked with Zimmer previously, to help bring their prehistoric music to life.
The composers combined their new instruments with a traditional orchestra and a collection of other unique instruments, including the yaybahar, a bowed instrument played by Görkem Şen, and a replica Divje Babe (a Neanderthal bone flute) played by Boštjan Gombač.
The orchestral arrangements and cues were recorded live over a five-day session with the BBC National Orchestra of Wales; however, the custom instruments' influence inspired much of the composition.
"Often, I would just improvise on these instruments and then arrange the orchestra around it, as opposed to writing the orchestra and then just recording the instruments on top," Rozman explains.
Prehistoric Planet follows a similar formula to other BBC docuseries, such as Planet Earth, using storytelling and narrative. Part of the challenge for Rozman was adding realism to these stories. With the score, his objective was to take the audience beyond the CGI to convince them, even if only for a moment, that they were watching live animals.
The new instruments played a significant role, as Rozman and Talve used them to distinguish the characters. For example, the Raptor Violin's creepy sound was used for Dromaeosaurus, while Hadrosaurus had the Hadro Cello.
"Badlands" tells the story of numerous dinosaur species as they navigate the treacherous desert world they inhabit. One of the main storylines follows two young tarchia—large herbivorous species with thick, armoured backs and club-like tails—as a large adult confronts them at a watering hole.
Throughout the process, Zimmer, who wrote the central theme for the series alongside composer Andrew Christie, provided feedback and support for Rozman and Talve. He describes the process as a "cohesive, collaborative effort."
"Everything we did went through Hans and Russell's [Russel Emmanuel, CEO of Bleeding Fingers] ears before it actually went out to the client," he says.
Rozman first contacted Zimmer during his time at Berklee Valencia, while arranging a "Skyping with Composers" session. Zimmer was too busy for that particular project, but recognized Rozman years later at London's AIR Studios, where the Berklee alumnus recorded his final assignment. As chance would have it, Zimmer was there working on the soundtrack to Interstellar. The iconic composer would be impressed by Rozman's final assignment, an arrangement of Gladiator.
The 75th Primetime Creative Arts Emmy Awards will take place January 6–7, 2024. Rozman is up against composers Tony Morales (Eva Longoria: Searching for Mexico), James Newton Howard (Light & Magic), Blake Neely (Pamela, A Love Story), and John Powell (Still: A Michael J. Fox Movie).
Currently, Rozman is working on multiple projects, including a documentary for Netflix and a scripted series. It is the most work he's ever had, but he enjoys the challenge due to the variation and illuminating nature of the subject matter.  
"I love working with people with interesting subjects to talk about," he says. "Whether it's scripted or documentary, if I'm learning something from the process, and the people are great to work with, I'm very happy to do it."