Berklee Valencia Announces the New Round of its Scholarship Program for Valencian Students
November 23, 2023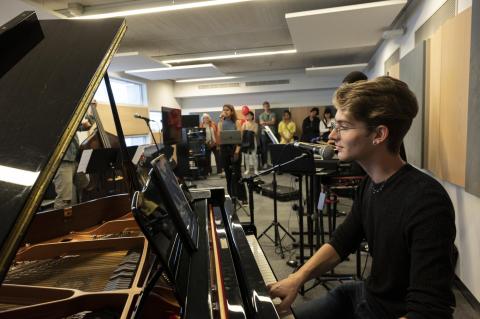 The deadline for submitting applications is Friday March 10; candidates who wish to apply for the scholarship must submit all required materials by Friday, April 21. This scholarship program is part of the collaboration between Berklee and the Ciutat de les Arts i les Ciències, which materialized in an agreement signed back in 2020, and by which Berklee Valencia ratified its presence in the city of Valencia at least for the next 20 years. The Fundació Palau de les Arts joined this agreement through its monitoring commission. In addition, it reaffirmed Berklee's clear commitment to promote Valencian talent as well as its willingness to keep contributing to the social, cultural, and musical fabric of the Valencian region.
Six students from the Valencian Community have benefited from these scholarships since the beginning of the program, which has allowed them to study a master's degree in one of the most important and well-renowned musical institutions around the world. In the previous round, the scholarships were awarded to two students, who are currently studying in the music production, technology and innovation and contemporary performance (production concentration) programs. 
The agreement's monitoring committee includes representatives from Berklee Valencia, the Ciutat de les Arts i les Ciències, and the Palau de Les Arts. Scholarship funds are allocated based on artistic, academic, and professional accomplishments as well as the financial resources of the candidates. 
The terms and conditions for the new call are available here.