Top Ten Tips for Streaming Live Concerts
May 14, 2020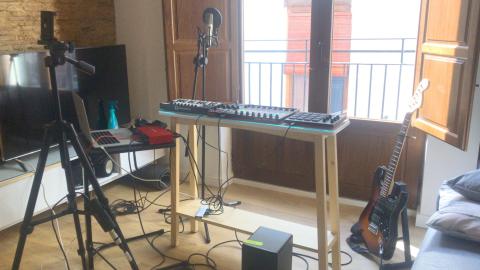 As the development of technology and social media causes us to shift further into the digital realm, musicians are more connected than ever to a global audience and are, in turn, finding alternative ways to deliver a live performance. 
From bedroom gigs to concerts within video games to virtual DJ nights, innovation and creativity are at the forefront of this exciting trend. As an artist, it could benefit you to take advantage of these creative channels to find new and innovative ways to connect with your fans. But before diving in, we recommend you take note of some of of the following tips:
1. Choose Your Platform
Before you go live, carefully consider all the different platforms available and learn which platform will best serve you. The most popular are YouTube Live, Facebook Live, Instagram Live, Twitch, and Zoom. However, you also have alternative platforms at your disposal, such as StageIt, Concert Window, Occur, and Concertvault, to name a few. Each platform offers different options in terms of experience, engagement, and features.
2. Target Your Audience
Be strategic about your event and think of ways to personalize the experience for your audience(s). Know which platforms work best for your audience and when they would be most likely to tune into a live stream. You might also consider limiting your stream to a specific geographical region and maybe even put together a digital tour of different live shows.
3. Deliver Quality Sound
You will want the sonic experience of your concert to be as optimal as possible. So think carefully about where you will stream and what technology you will use to deliver quality sound. Try to eliminate background noise and consider the acoustics of the room you're playing in. You may also want to scale up the quality of your sound by using an interface and microphone. You can do this with a computer or by running your interface directly into your phone.
4. Tend to Your Aesthetics
To differentiate yourself from all the other musicians who are streaming, you might want to dedicate some time to how you will visually come across on screen. Consider setting up an original backdrop with the use of props or lighting, or a green screen. Any small aesthetic effort will go a long way in terms of a fan's experience. 
5. Consider Pricing
Most of the time, artists offer their streaming content for free. This is a good way to give back to your fans, but it is not always the best option if you are looking to monetize your performances. Consider alternatives to free concerts, such as calling for donations, encouraging financial support with a platform such as Patreon, or by simply selling tickets to your digital show. You could create a more exclusive experience for paying fans by limiting the number of attendees, or create a tiered ticketing system to offer special content or features to those who donate.
6. Run a Dress Rehearsal
We strongly recommend that you always conduct a rehearsal before the actual show, with someone you trust, to triple-check everything is working as planned. Remember to check sound, lighting, and WiFi connectivity, and ensure you have a narrative to accompany your setlist so that each song runs smoothly into the next.
7. Deliver Strategically
It is impossible to replicate the exact experience of an offline concert in an online format, due to the difference in attention span on the computer compared to that of physically being in a venue. So make sure you adjust to your new format. Short concerts of 20 to 30 minutes are typically the way to go. You may also want to offer some breaks during your set. Also, make sure you don't stream too often, so you can keep your audience coming back for more.
8. Promote Well
Remember to let your fans know about your show in advance to give them time to plan for it in their schedule. Ideally, you want to promote a show at least a week ahead of time through your social media and newsletter. Take advantage of the promotional features available to you on the platform you will use, such as creating countdowns and reminders on Instagram stories. Also, consider running a paid promotion through Facebook, Instagram, or YouTube, and target your promotions by the location, age, and gender of your audience.
9. Remember to Engage
Always plan to acknowledge and interact with your audience during your show. That may mean creating conversation between songs, asking for feedback, or simply asking where they are logging in from. To encourage dialogue, you may want to take song requests or answer questions from fans about your career. Don't forget to look at the camera to create a connection with your audience and establish your virtual stage presence.
10. Go Live and Record Your Show
Last but not least, enjoy your live stream and improve your skills by doing it over and over again. Streaming live is a fantastic opportunity to create a stronger bond with your followers and offer them unique content. Record this unique content and use pieces of it for your social media channels to encourage more engagement in future opportunities.