Scholarship Collaboration Agreement with Fundación Conexus
February 6, 2012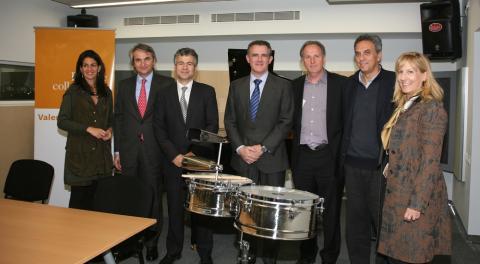 Berklee College of Music president Roger H. Brown and the president of the Fundación Conexus, Javier Serratosa, have put together a stable agreement between both institutions to support musical talent. The first consequence of this agreement is the 30,000 euro scholarship to support a student who resides in or is from Madrid for a master's program in contemporary studio performance at the Valencia campus.
After signing the agreement, Brown said he was "delighted with the collaboration with the Conexus Foundation and the scholarship." For Roger Brown, this agreement is in line with Berklee's priority: "attract talent from all over the world and incorporate it at Berklee College of Music."
On the other side, Serratosa said he is "proud" of "supporting advanced studies in music" and participating in a "project that will bring talent to Valencia," with students from all around the world.
The scholarship will finance a master's program student starting in September 2012. Those interested in applying for the scholarship will need to follow the standard acceptance process for the master's program. In their application, they should mention their interest in applying for this scholarship. Once accepted by Berklee in Valencia, they must write a paper to enter the final scholarship application process. 
Learn more about Berklee College of Music.
The Fundación Conexus Madrid-Comunitat Valenciana is a private corporate nonprofit organization, plural and independent, born as a meeting point for people and companies with two things in common: their relationship with the community of Valencia and their presence and or interest in Madrid. The common objective of all members of the foundation is to establish a solid economic, cultural, and musical link between the communities of Madrid and Valencia. The decision to create a foundation was based on the concept of creating an institutional character which is stable and permanent.