Berklee Valencia and Il Divo Establish Scholarship in Honor of Carlos Marín
December 19, 2022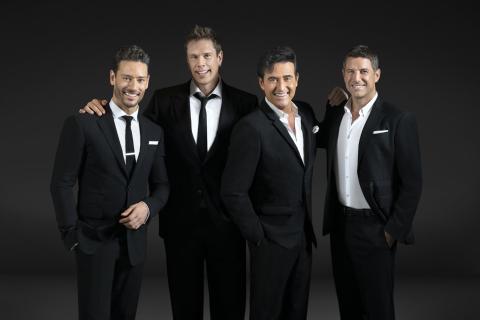 "It's an honor and a privilege to be able to set up this scholarship fund with Berklee College of Music in the name of Carlos Marín," said Urs Bühler, Sébastien Izambard, and David Miller, the members of Il Divo. "Carlos is one of the greatest singers and performers of our age, and we miss him deeply every day. We hope this scholarship fund will help support and nurture many aspiring singers for years to come."
Il Divo was first discovered and mentored by Simon Cowell in 2003 for his Sony Music Syco label with the original four members—Swiss tenor Urs Bühler, French tenor Sébastien Izambard, American tenor David Miller, and Spanish baritone Carlos Marin. Il Divo debuted in 2004 to instantaneous success while simultaneously pioneering the unique pop-opera genre. With songs in four languages, their self-titled debut album, Il Divo, became a top four sensation in 19 countries, hitting #1 in eight, and breaking Led Zeppelin's 25-year-old record of being the only band to achieve a No. 1 album without a single release. 
Approaching their 20th anniversary, Il Divo has sold more than 30 million records, achieved 160 gold and platinum records in more than 33 countries, and appeared on Broadway in the show Il Divo—A Musical Affair. They have recorded 10 studio albums (The Christmas Collection, Siempre), two live records (An Evening with Il Divo: Live in Barcelona and Live in Japan), one compilation album (The Greatest Hits), plus numerous special editions featuring collaborations with artists such as Celine Dion, Toni Braxton, and Kristin Chenoweth, among others. The group honored the music and artists of Motown Records with their 2021 release, For Once in My Life: A Celebration of Motown.
"We are extremely thankful to Il Divo and touched by this special gift. The Carlos Marín Endowed Scholarship will be a beautiful way to keep Carlos's memory resonating in the students' voices that will carry this honor," said María Martínez Iturriaga, Berklee's senior vice president of international learning environments and executive director at Berklee Valencia. 
Berklee Valencia is the college's first campus outside the United States and its only campus in Europe. Celebrating its 10th anniversary this year, the campus offers a unique curriculum through Berklee's first graduate programs in music production, technology, and innovation; contemporary performance (production concentration); scoring for film, television, and video games; and global entertainment and music business; as well as study abroad opportunities for undergraduate students from Berklee's Boston campus, and a summer program.
Through numerous collaborations with Valencian institutions, such as La Ciutat de les Arts i les Ciències (Les Arts), Berklee Valencia develops cultural and academic activities of public interest in the region. Since it opened its doors in 2012, more than 4,500 students from almost 100 countries have studied on the campus and come to the city of Valencia to complete their education.