Becoming a Music Supervisor: How to Stand Out from the Competition
November 20, 2023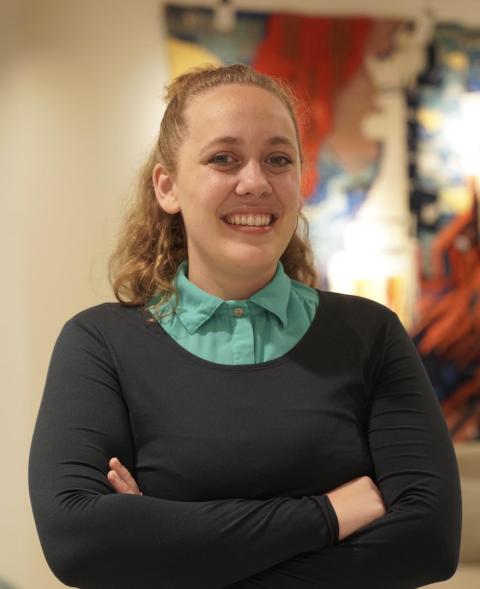 You're finally ready to watch Netflix's latest hit show. You settle in on the sofa, snacks in hand, and hit "play." The room is suddenly filled with the enticing sounds of your favorite song—the one you've loved since you were a kid—rolling in with the title sequence. That song continually keeps you engaged, episode after episode, as you follow the characters' epic adventure. 
Nikole Luebbe B.M. '14, a music supervisor who teaches a Berklee Online course on this growing field, and Emilien Moyon, director of the Master of Arts in global entertainment and music business program at Berklee Valencia, know what goes into creating this effect for audiences.
According to the Guild of Music Supervisors, a music supervisor is "a qualified professional who oversees all music-related aspects of film, television, advertising, video games, and any other existing or emerging visual media platforms as required."
How this task plays out from one year to the next evolves in an entertainment industry constantly in flux. Luebbe B.M. says that music supervisors must be lifelong learners. 
"You have to pay attention to [when a] composer is now in the public domain, so that changes this, and this lawsuit changes the way we look at soundalikes, and you really have to be up on industry changes," Luebbe says. 
The Berklee alumna, who majored in music business/management and minored in choral conducting, says that the vast amount of content being produced, especially for streaming services, has led to the creation of more opportunities for music supervisors. This is due to a continuously expanding global film and video market, which grew at a rate of 11.4 percent from $244.43 billion in 2021 to $272.21 billion in 2022, according to the Business Research Company. 
Luebbe and Moyon shared what the role entails and some of the factors that will help rising music supervisors land these great projects.  
A Bridge Between Two Worlds
Moyon and Luebbe explained that music supervisors must be creative and business-oriented, as they act as liaisons between music and visual media professionals. Students seeking to get into this field must learn to manage production budgets, develop a deep knowledge of music copyright law, and be able to negotiate, stay organized, and build a network of music industry professionals. 
"A music supervisor has to translate the vision of a film or series producer into a mix of music and sounds—an audio environment that will best fit the creative side," Moyon says. 
A deep knowledge of music is important for choosing songs that best suit a project. And when a music supervisor is commissioning original music, it's essential to understand the time involved in creating quality music in order to set realistic expectations and deadlines for composers.
Meanwhile, on the business side, music supervisors work with music producers, songwriters, music artists, and label executives to request the license for the use of their songs and negotiate compensation that falls within project budgets. 
This is why Luebbe emphasizes that "this job is network-dependent and you cannot do it without industry contacts." She trains her students to negotiate and network during the music supervision course and expects them to apply these skills during their studies. 
"If you're leaving your Berklee experience, whether it's an online class, a master's program, or a four-year degree, and you don't feel like you can work with at least a handful of people, then I don't know that you've utilized your time appropriately, because that's the main thing you can get from from these experiences," she says. 
Networking will help one navigate the challenges of requesting copyright permission for a song, especially when there are many stakeholders, including songwriters, producers, and a record label. 
While much of this work is done on a freelance basis, certain production companies, including Netflix, advertising studios, and video game development companies, hire in-house music supervisors. In both settings, especially in large markets like the U.S. and U.K., the music supervisor role is highly competitive. You can make your CV stand out by taking a course on music supervision or by enrolling in a bachelor's or master's program in music business. 
Students at Berklee Valencia and those enrolled in the Berklee Online music supervisor course can grow their knowledge of the business, entertainment, and copyright law, what makes good music, and how to analyze and explain it, like Berklee Valencia students do in the A&R and Music Artistry course. 
"If you need music in the scene of a movie that is very emotional, you need to be able to explain your emotion and translate how the specific piece of music will be appropriate to convey that emotion," Moyon explains.  
Luebbe also recommends interning alongside an established music supervisor to gain on-the-job experience. There will be challenges, but interns will experience the most rewarding part: when all of their hard work finding the right music for a project and successfully negotiating the rights to use it comes together. 
"The most rewarding parts for me are when I'm at the end of a season, I've licensed music, and I'm seeing the final footage of this great song in this great moment. And then, I'm watching the  check go from my production company to that artist," Luebbe explains. "That's the most satisfying thing."