Alumnus Receives Fulbright Award to India
May 18, 2022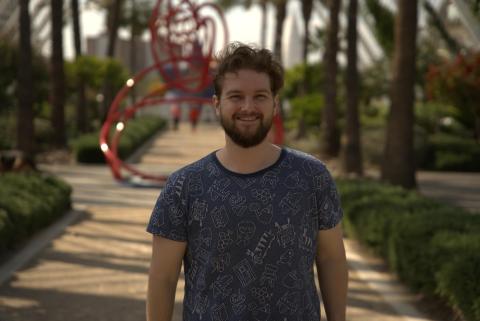 Calvin McCormack M.M. '21, a recent graduate of Berklee Valencia, has been named a recipient of a Fulbright-Nehru Award by the U.S. Department of State and the Fulbright Foreign Scholarship Board. He is the third alumnus to receive a Fulbright in the past two years; alumni Devina Boughton B.M. '21 and Andrew Skinner M.M. '20 received Fulbright U.S. Student Program Open Study/Research Awards in June of 2021.
As a Fulbright participant, McCormack will study and conduct research abroad for the 2022–2023 academic year through the Fulbright Program and the United States-India Educational Foundation (USIEF). McCormack, a native of Baltimore, Maryland, will be designing, developing, and testing digital instruments for people with disabilities, a group that has been historically overlooked by musical instrument designers, in rural Uttarakhand as part of his Fulbright work. 
"I am incredibly honored to receive this research grant and continue my work in India," said McCormack. "I believe that technology has enormous potential to make music creation more intuitive, accessible, and affordable. I am excited to develop new musical instruments that will allow anyone, regardless of experience or disability, to expressively create music."
Recipients of Fulbright awards are selected in an open, merit-based competition that considers leadership potential, academic achievement, and record of service. As Fulbright scholars, their careers are enriched by joining a network of hundreds of thousands of esteemed alumni, many of whom are leaders in their fields. Fulbright alumni include 61 Nobel Prize laureates, 89 Pulitzer Prize recipients, and 40 who have served as a head of state or government.
McCormack's research will be supported by three affiliates within India. CED Society, a nonprofit outreach center dedicated to empowering disabled women in Uttarakhand through academic and professional support, will help identify suitable research participants and provide logistical support. Dr. Vrajesh Udani, an experienced medical researcher who specializes in neurological disorders, will provide medical insights. Finally, Global Music Institute (GMI), one of India's only institutes for digital music, will provide design guidance and prototype feedback from experienced Indian musicians and producers. McCormack selected India as an ideal location to develop these instruments; it is a nation rich in traditional musical idioms containing a large rural population and over 26 million people living with a disability who would benefit from an artistic expression designed just for them.
"We are honored to once again see a Berklee alumnus be recognized with a Fulbright award for his scholarly and creative pursuits," said Berklee President Erica Muhl. "I would like to extend my deepest congratulations to Calvin McCormack on this major achievement, an acknowledgement of his innovative thinking, creativity, and dedication to developing technology for underrepresented groups. I look forward to seeing his research and the important work that we know will result from this prestigious grant."
Earlier this year, Berklee was recognized as a top producer of 2021–2022 Fulbright U.S. Students by the U.S. Department of State's Bureau of Educational and Cultural Affairs (ECA). The nation's top-producing Fulbright institutions are highlighted in the Chronicle of Higher Education annually. The Fulbright application is administered at Berklee through its two designated Fulbright Program Advisors: Roya Hu, senior director for faculty development, and Nicole Izzo Mlynczak, director of career education and student employment. Inquiries can be sent to fulbright@berklee.edu.
About the Fulbright Program
The Fulbright Program was established over 75 years ago to increase mutual understanding between the people of the United States and the people of other countries. Fulbright is the world's largest and most diverse international educational exchange program. Its primary source of funding is an annual appropriation made by the U.S. Congress to the U.S. Department of State's Bureau of Educational and Cultural Affairs.
Since Fulbright's inception in 1946, over 400,000 people from all backgrounds—recent university graduates, teachers, scientists and researchers, artists, and more—have participated in the program and returned to their home countries with an expanded worldview, a deep appreciation for their host country and its people, and a new network of colleagues and friends.
Fulbright alumni work to make a positive impact on their communities, sectors, and the world, and have included 40 heads of state or government, 61 Nobel Laureates, 89 Pulitzer Prize winners, 76 MacArthur Fellows, and countless leaders and change-makers who carry forward the Fulbright mission of enhancing mutual understanding.
For more information, visit eca.state.gov/fulbright.