Emilien Moyon
Program Director
Global Entertainment and Music Business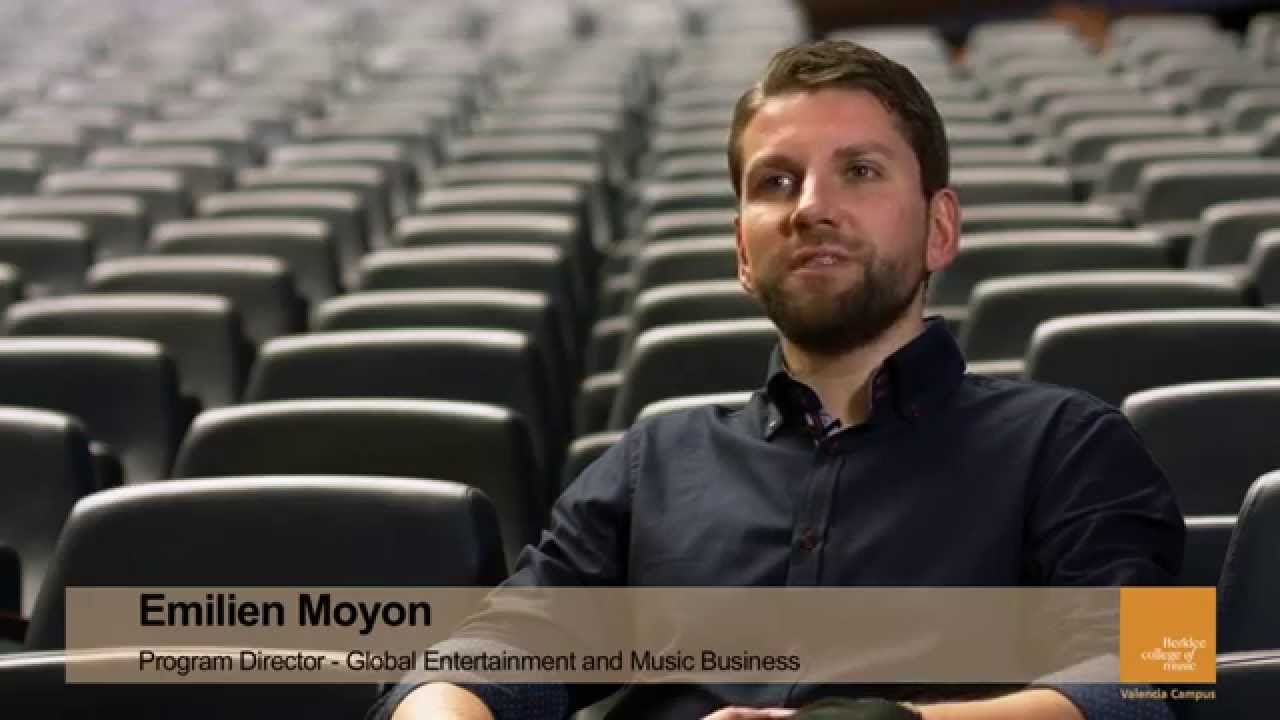 Emilien Moyon
Program Director
Global Entertainment and Music Business
"Because the music industry is constantly changing, it is now very important for our students to understand that they need an entrepreneurial mindset to be successful. They are the leaders of their professional career. The music business now expects managers and executives to be creative, proactive and to be able to imagine the future of the industry. In my classes, I help students to develop cutting-edge business skills and to have a global understanding of the entertainment industry (technologies, new consumer behaviors, regulations, etc.) Students also participate in group projects and workshops to stimulate their creativity and to enhance their leadership skills. These skills will be their competitive advantage in the market."
"It is now very difficult for leaders and managers in the music business and the entertainment industry to rethink their business model. I strongly believe that this difficulty is the result of well-established cognitive representations; for many years, there was one dominant business model in the record industry which most people perceived as the only way to do business. This way of thinking has a very negative impact on creativity and innovation especially when you are working in a creative industry. This is the reason why I always try to use companies from heterogeneous industries as examples for students to discover alternative approaches to create value for consumers and generate revenues for firms. Innovators are the ones who constantly think outside the box and transform threats into opportunities!"
"One of Berklee's biggest strengths is to promote diversity and I think that diversity represents a wonderful opportunity for our students to enhance their learning experience. For instance, business students can interact with talented performers and composers on a daily basis. Therefore, business students have the possibility to develop transversal skills which are another key asset to be successful in the music industry. I want my students to promote and develop interactions between the different programs of the school. For example, they can use their skills to manage a band, to develop a marketing campaign using social networks or to organize a gig. These initiatives will be a catalyst to grow professionally. Berklee offers plenty of opportunities to take responsibility and develop a global network of talented people."
Career Highlights
Director of the Global Entertainment and Music Business Program at Berklee, the world's leading music education school.
Founder and director of TEDxBerkleeValencia
Grounded on years of academic research, I created a series of keynotes and workshops for executives and students. Titles include:
Design an innovative and sustainable business model
Rethink your business model
Gain a competitive advantage through business model innovation
Business model innovation in entertainment
The future of music in the video game industry
Workshops and research results presented at MIDEM 2013 and 2014, BIME Bilbao 2013, MaMA Paris 2013, MIDEM 2013 in Cannes, Sonar 2013 and 2014 in Barcelona, Business Model Innovation Day 2013 in Valencia, AIMS 2013 in Clermont-Ferrand.
Thesis dissertation: Business Model Change: The Case of the Majors in the Phonographic Industry, FNEGE/AIMS Award for the Best French PhD Dissertation in Strategic Management in 2012. Full document (French), Summary (English)
MIDEM 2014 RETHINK MUSIC WORKSHOP: "Imagine the business model of a song"
MIDEM 2013 PRESENTATION: TRADITIONAL & NEW REVENUE STREAMS
Research
Research Interests: Business Models, Organizational Change, Innovation, Creative Industries, Converging Industries.
Published Papers in Refereed Journals
Moyon E. & X. Lecocq (2014), "Rethinking the business model of creative industries: The case of the French record industry." International Studies of Management and Organization.
Moyon E. & X. Lecocq (2010), "Co-evolution between stages of institutionalization and agency: The case of the music industry's business model." Management International, 14, 4.
Articles Presented in Refereed Conferences
Moyon E. & X. Lecocq (2013), "Adopting a business model view to study industry change: The case of the French record industry." 22nd AIMS Conference.
Moyon E. & X. Lecocq (2009), "Co-evolution between stages of institutionalization and agency: The case of the music industry." 69th Annual Meeting of the Academy of Management, Chicago.
Moyon E. (2008), "The role of major labels in the building of a new business model in the music industry." International Workshop on Business Models at Cass Business School, London. (Award for the Best Poster Paper).
Ben Slimane K. & E. Moyon (2008), "L'émergence et l'interdépendance des Business Model dans l'industrie de la musique." Congrès des IAE.
Moyon E. & X. Lecocq (2007), "La dynamique des réponses stratégiques des majors au changement institutionnel dans l'industrie de la musique." 16th AIMS Conference.